Historical Perspective: Healthcare Quality and Improvement Committee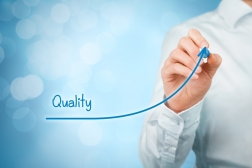 Description
The ASQ Quality Management and Healthcare Technical Communities have a history of partnership in joint conferences, liaison activity, research and publication. 4.5% of QMD members are also members of the Healthcare Division. The Quality Management Division hosted a Public Health technical committee from 2010 to 2012, when it was decided to discontinue the tightly focused Public Health group in favor of a broader health focus of a Healthcare Technical Committee. The Public Health task group was subsequently sponsored by the ASQ Healthcare Division and remained active until 2016 when it was subsumed into the broader Healthcare committee.

The ASQ Quality Management Division/ Healthcare Division joint Healthcare Technical Committee published the Hospital-based Healthcare Quality Management System model as Monograph #1 in the "Improving Healthcare Monograph Series" in April 2016. The Model was provided to all members of both the Quality Management and Healthcare Divisions, as well as presented at several conferences for general distribution.

A second Monograph was published providing a series of assessment checklists as a guide for organizational assessment and gap analysis for those developing their own healthcare Quality Management System. A draft of Monograph 2 was announced in 2018 at the ASQ World Conference on Quality and Improvement.

The committee was renamed the Healthcare Quality and Improvement Committee in January 2019 in alignment with naming conventions relative to the ASQ transformation effort. The committee is open to all ASQ members with interest in applying quality management principles to healthcare.

Below is the 2019 profile of Healthcare Technical Community members who are also members of the Quality Management Technical Community. This chart indicates that the percentage of involvement of Healthcare in Quality Management holds steady at 4.5% for the last 5 years.
| | | |
| --- | --- | --- |
| Row Labels | Count of 1.QMD | Sum of 18.HCD |
| CONTINUING | 12,445 | 574 |
| NEW | 507 | 23 |
| PROFORMA | 6,613 | 307 |
| RENEWED | 1,152 | 44 |
| UNPAID | 2,799 | 121 |
| Grand Total | 23,516 | 1,069 |
|   |   | 4.5% |
Back to the Healthcare Quality and Improvement Committee Page
Date Last Modified:
Aug 24, 2020