VII.D Training Effectiveness and Evaluation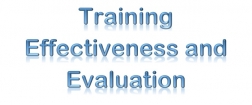 Description
Excerpt From
The Certified Manager of Quality/Organizational Excellence Handbook
Competency Out, Capability In
- 
By
Morgean Hirt
(Link to the Association for Talent Development Site)
Training Effectiveness
As indicated in the training model in Figure 19.2, all phases of the training process should be evaluated. Evaluation is essential in determining whether the training program meets the objectives of the training plan. Evaluation includes:
 1. Verification of the design (for example, subject content and delivery methods)
 2. Applicability of facilities, equipment and tools, and media to be used
 3. Qualifications of the trainer
 4. Selection of the participants
 5. Measures to be used to assess training effectiveness (validation)
 6. Measures to be used to assess outcomes resulting from training (validation)
Technical training effectiveness can be greatly enhanced by four key considerations:
 1. Appropriate preparation of the training facilities
 2. Appropriate timing of the training relative to when performance is required
 3. Appropriate sequence of training relative to skills mastery
 4. Appropriate feedback indicating performance difficulties and progress
Level 1.
The reaction level provides the lowest-value information and results and is frequently and easily used.
Level 2.
The learning level is used to obtain a more in-depth assessment of whether specific training objectives were met.
Level 3.
The behavior (job applications) level assesses whether or not the training is applied back on the job, usually after some time has passed.
Level 4.
The results level measures the quantitative difference between the outcomes of the work units affected prior to their people receiving training (the baseline) and the outcomes some time after the training ended. The objectives for training measured could be a decrease in scrap rate, an increase in number of savings accounts opened, increased classroom attendance, elimination of medication errors in a hospital, and so on.
Level 5.
The ROTI level offers the highest-value information and results, but is not used as frequently and is more difficult to assess. Level 5 is based on placing dollar values on the baseline, the results, and the improvement, then determining the value received for the dollars spent. When expressed as a ratio, a $3 return for every $1 spent is a useful minimum ROTI. Quality training programs that score best at all levels are likely to be very successful.
Quality Management BOK Reference
VII Training and Development
VII.D Training Effectiveness and Evaluation - Assess training effectiveness and make improvements based on feedback from training sessions, end-of-course test results, on-the-job behavior or performance changes, and departmental or area performance improvements.
CMC Resource Page
Additional Resources
Back to the
Training and Development CMC
Back to the
Quality Management Body of Knowledge
Date Last Modified:
Jun 22, 2020