VII.C Training Materials/Curriculum Development and Delivery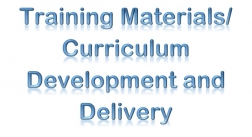 Description
QMD Webinar - Managing Distributed Training Communities, Daniel Castle
QMD Webinar - 8 Steps to Create a Successful Virtual Training Strategy, Grace Duffy
Excerpt From
The Certified Manager of Quality/Organizational Excellence Handbook
Often, the term training is not used with top management. Executive education may take the form of multi-day retreats, combining learning and leisure activities, or it could consist of intensive learning events at a prestigious academic institution. For shorter-term education, executive briefings are the norm. Forums and symposia are other terms used.
Management training is the term typically used when providing education and training courses, workshops, or seminars for supervisors/managers or in preparing individuals to assume a supervisory/managerial role. Many successful companies cascade knowledge down throughout the organization by having management learn first, then having managers instruct their direct reports. It is an excellent way for management to demonstrate support, become personally involved, and better comprehend the subject matter. As the Body of Knowledge for the ASQ CMQ/OE examination suggests, managing requires an eclectic repertoire of skills (for example, technical skills for the functions managed, planning and organizing skills, staffing and people management skills, project management skills, and training, coaching, and mentoring skills). In addition, managers need to develop skills in managing conflict and negotiations, as well as build a solid understanding of variation and the use of measurements.
In most organizations the quality manager is the in-house expert on quality issues and, as such, is expected to be involved in helping identify the quality subject training needs for other managers. The quality manager should ensure that the quality-related technical content of a training program meets the training needs.
It is not enough simply for training to be conducted; it is extremely important that follow-up activities require the manager to use the knowledge or skill gained in the training session. If a manager is not required to employ the new skill immediately, only a small portion of the training is likely to be retained. Additionally, a manager must be given the opportunity to apply the new skill in the environment in which it is expected to be used. The training should be reinforced and evaluated periodically to ensure that the concepts are understood and the skills are practiced.
Training for managers differs from that for other employees because managers often are not expected to actually do the things that are the subject of the training, but rather are expected to be able to oversee proper application of the training. A simple example involves training in statistical process control (SPC).
An operator would be expected to actually use the skills learned in training to record the data and control the process. To do this, the operator would need to understand control chart rules and what action to take when out-of-control conditions are shown on the chart. A manager, however, needs to not only oversee the worker's proper use of SPC, but also needs to interpret the data at a higher level. For example, a manager must determine whether the average or range chart control limits are so broad that action is required at the machine to improve capability even when the process is in control. The manager may also create systems so SPC charts can be properly employed within the organization.
The ISO 9000 series quality system standards, and other standards, have heightened awareness of the need for training and qualifying personnel who conduct activities pertaining to quality, as defined in the organization's quality plan, procedures, and practices. Typical basic training topics for all employees include quality principles and practices, problem-solving methods, the basic quality tools, working as a team member, team protocols, and interpersonal skills. Training is also needed in the technical aspects of a job.
Skills required in day-to-day activities can be acquired through formal training or through on-the-job training (OJT). When practical, employee training may be more effective when formal training is combined with OJT. Both formal training and OJT need a defined structure, clear objectives, and a method for demonstrating competency. Regardless of the training system used, the trainer must be qualified to teach the topic/skill to be trained (including underlying concepts and the reason for training), must know how to properly use requisite tools and references (including any equipment used to deliver training), and should be aware of how to best train adults. Knowles has delineated theories of learning and teaching for adults.
Quality Management BOK Reference
VII Training and Development
VII.C Training Materials/Curriculum Development and Delivery - Use various tools, resources, and methodologies to develop training materials and curricula that address adult learning principles and the learning needs of an increasingly diverse workforce. Describe various methods of training delivery: classroom style, workbooks, simulations, computer-delivered, on-the-job, mentoring, coaching, and self-directed learning.
CMC Resource Page
Additional Resources
Back to the
Training and Development CMC
Back to the
Quality Management Body of Knowledge
File
Maximize ROI through Methodical Training Curriculum Design
Quality Management Forum Article Fall 2018
464 KB
Date Last Modified:
Aug 27, 2021