VI.F Supplier Certification, Partnerships, and Alliances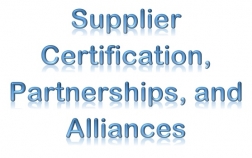 Description
Excerpt From
The Certified Manager of Quality/Organizational Excellence Handbook
Supplier Certification
The objective of a supplier certification program is to allow consistent supplier performance to be reflected in operating practices for handling received material and awarding future business. Material from a certified supplier may be verified at a very low level of verification (for example, skip-lot sampling whereby parts will be checked from perhaps only every fifth lot). Suppliers who are certified may also receive higher priority for new business.
The certification process involves the following major steps:
Development of the certification criteria and process (for example, selection, evaluating, rating, communication, and reaction processes)
Identification of supplier categories for which certification would be advantageous
Evaluation of selected suppliers against defined criteria
Reporting of evaluation results, awarding of certification for those who qualify, and clarification of a future interrelated process (for example, supplier reporting requirements)
Ongoing monitoring of supplier performance, with actions taken in accordance with the defined certification process
Determining which suppliers for whom certification will be available requires evaluation of the potential impact on both the purchaser and supplier. Certification should be considered if it could significantly reduce costs and enhance the business relationship. Risks or other issues such as regulatory or purchaser-mandated requirements for incoming product verification may rule out the option. Another factor is whether the level of sophistication of the supplier organization and its process technology can support the performance expected from a certified supplier.
Supplier certification programs use the assessment and feedback systems mentioned earlier in this chapter; however, there is usually a tiered rating classification (for example, qualified, preferred, and certified). As a supplier advances from one classification level to the next, the amount of reliance on the supplier for product verification is increased. Performance at a particular level must also be maintained for some minimum amount of time before moving to the next level.
Quality Management BOK Reference
VI Supply Chain Management
VI.E Supplier Certification, Partnerships, and Alliances - Define and implement supplier certification programs that include process reviews and performance evaluations. Identify strategies for developing customer-supplier partnerships and alliances.
Additional Resources
Back to the
Supply Chain Management CMC
Back to the
Quality Management Body of Knowledge
Date Last Modified:
Apr 20, 2022