V.B.3 Customer Service Principles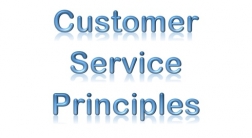 Description
Excerpt From
The Certified Manager of Quality/Organizational Excellence Handbook
Customer service is much more than just delivering what the customer wants. Customer service, when fully embraced by an organization, involves not only delivering what was ordered, but also truly caring about the customer. Caring is about customers' perceptions of your organization—its products and services, its people, its reputation. Caring is about the customers' well-being—health, safety, security. Caring is also understanding as much as possible about what the customer needs and wants, even their future needs.
In the eyes of today's customer, customer service transcends the product or service an organization provides. It is a predominant factor in the buying decision, often overriding price. It is a primary factor that distinguishes one organization from another. In many cases, superior customer service justifies an organization charging higher prices.
Customers fall into a number of different categories (Chapter 16), yet there are no organizations without customers. And, since all organizations (for-profit and not-for-profit) have customers, a primary focus of any organization must be on providing satisfactory to exemplary service to those customers. Many organizations in classifications other than service mistakenly believe and wrongly act as if their business does not involve serving customers.
Following are some of the first key steps to improving customers' perceptions of quality customer service:
 The top management of the organization sets the tone and the pace. There must be visible personal involvement of the senior leaders in championing exemplary customer service. Employees, or volunteers, depending on the organization, must see their leaders supporting customer service excellence—in words, in actions, and with appropriate funding. In spite of the hundreds of articles, the extensive advertising campaigns, and other media hype, there is still more talking than walking. 
Top management's commitment is expressed in the organization's vision and/or mission statement. This statement clearly positions customers and service to customers as the primary reasons for being.
The organization's strategic goals and objectives reinforce the vision and mission. These plans, cascaded downward through the organization, are translated into actions to support the goals and objectives.
The organization's system of tracking, measuring, analyzing, reporting, and reacting ensures that actions supporting the strategic plans are measured. The means for collecting, analyzing, and disseminating the voice of the customer is integral to the achievement of the strategic goals. Both customer service initiatives and the processes for achieving the plans are continually examined for opportunities to improve.
The concepts and practices of superior customer service start within the organization. When internal customers receive quality service from internal providers, the beneficial results can be more easily related to external customers.
The organization's leadership involves its members/employees in shaping external customer service excellence. Management style evolves toward empowering the people in the organization to act in providing the best service possible. Management's role is to support, conceptually turning the organization's structure upside down from its traditional pyramidal shape.
The organization employs multiple means for obtaining customer feedback. It collects, correlates, analyzes, and disseminates crucial information for management's action. Complaints are actively solicited and acted on.
The organization dedicates itself to training of its people. Everyone is educated in the products and services provided by the organization. They not only understand what these products and services are, but why and how the customer uses them. Everyone in the organization is trained in customer service practices, including interpersonal skills (basic courtesy, politeness, pleasantness, and conflict resolution), problem solving, and customer inquiry and complaint response techniques. Every individual in the organization is made aware of their role in the customer service process and treated as an important owner of the process. Every individual is kept well informed as to how the organization is doing in achieving its customer service objectives. Exemplary customer service performance is recognized and rewarded, frequently.
The organization establishes a benchmarking process. It seeks out others who are perceived as best in class for specific processes. It charters benchmarking teams to learn about how these other organizations achieve their results and help translate these finding into improvements within their own organization. 
The organization, once it has achieved a level of excellence recognized by its customers, adopts an unconditional guarantee policy. It places the very existence of the organization on the line. And it states its policy for all to hear and see—an irreversible commitment to quality customer service.
Focusing on the Customer
- Jeff Israel 
ASQ Service Quality Division
ASQ Customer-Supplier Division
Quality Management BOK Reference
V Customer-Focused Organizations
V.B Customer Relationship Management
V.B.3 Customer service principles - Develop and deploy strategies that support customer service principles: courtesy, politeness, smiles, cheerfulness, attention to detail, active listening, empathy, rapid response, and easy access for information and service.
Additional Resources
Back to the
Customer Focused Organizations CMC
Back to the
Quality Management Body of Knowledge
Date Last Modified:
Dec 29, 2020