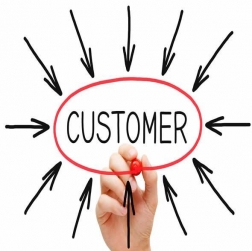 Description
Excerpt From
The Certified Manager of Quality/Organizational Excellence Handbook
The following is a list of many types of external customers and some of the influences these customers have on the products and services provided.
•
Wholesale buyer.
Wholesalers buy what they expect they can sell. They typically buy in large quantities. They may have little direct influence on the product design and manufacture, but do influence the providers' production schedules, pricing policies, warehousing and delivery arrangements, and return policies for unsold merchandise. 
•
Distributor.
A distributor is similar to a wholesaler in some ways, but differs in the fact that they may stock a wider variety of products from a wide range of producers. What they stock is directly influenced by their consumers' demands and needs. Their customers' order quantities may often be small and for diverse products. The distributor's forte is stocking thousands of catalog items that can be picked and shipped on short notice at an attractive price. Distributors stocking commodity-type items (for example, sheet metal, construction materials, mineral products, stationery items, and so on) are mainly influenced by customers seeking an industry level of quality, at a good price, and immediately available. For example, to reduce the buyer's cost and enable the supplier's efficiency, orders for some types of materials might be for a yearly quantity delivered in partial shipments throughout the year (called blanket orders).
•
Retail chain buyer.
Buyers for large retail chains, because of the size of their orders, place major demands on their providers. For example, pricing concessions, very flexible deliveries, requirements that the provider assume warehousing costs for already purchased product, special packaging requirements, no-cost return policy, or a requirement that the provider be able to accept electronically sent orders.
•
Other volume buyers.
Government entities, educational institutions, healthcare organizations, transportation companies, cruise lines, hotel chains, and restaurant chains all represent large-volume buyers who provide services to customers. Each of these organizations has regulations governing their services. Each requires a wide range of products, material, and external services in delivering their services, much of which is transparent to the consumer. Each requires high quality, and each has tight limitations on what they can pay (for example, based on appropriations, cost-control mandates, tariffs, heavy competition). Each such buyer demands much for their dollar, but may offer long-term contracts for fixed quantities. The influences on products required are frequently generated by the buyer organizations' internal customers. Inasmuch as price and delivery are often the prevailing considerations, feedback to the providers relative to end user satisfaction with the products or services delivered, if feedback is available at all, travels a slow and convoluted path.
•
Service providers.
The diversity of service providers buying products and services from other providers is mind-boggling. These buyers include the plumber, public accountant, dentist, doctor, building contractor, cleaning service, computer programmer, website designer, consultant, manufacturer's rep, actor, and taxi driver. This type of buyer, often self-employed, buys very small quantities, shops for value, buys only when product or service is needed, and relies on high quality of purchases to maintain its customer's satisfaction. Influences on products or services from providers to this type of buyer range from being able to furnish service and/or replacement parts for old or obsolete equipment, or being able to supply extremely small quantities of an extremely large number of products (for example, such as supplied by a hardware store, construction materials depot, medical products supply house, and so on), to having product knowledge that extends to knowing how the product is best used. 
•
Retail buyer.
The retail buyer influences the design and usability of product features and accessories based on volume purchased. Consumer product watch organizations warn purchasers of potential problems. (For example, in the late 1990s a fake fat substance was introduced in a number of food products as a boon to health-conscious people. These products didn't taste good and were found to have harmful side effects. Many buyers stopped buying those products.) Features important to these buyers, depending on type of product, are reasonable price, ease of use, performance, safety, aesthetics, and durability. Other influences on product offerings include installation, instructions for use, post-purchase service, warranty period, packaging, and brand name.
Quality Management BOK Reference
V Customer-Focused Organizations
V.A Customer Identification and Segmentation
V.A.2 External customers - Define external customers and describe their impact on products and services. Develop strategies for working with them and integrating their requirements and needs to improve products, services, and processes.
Additional Resources
Back to the
Customer Focused Organizations CMC
Back to the
Quality Management Body of Knowledge
Date Last Modified:
Jan 27, 2019