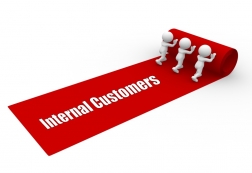 Description
Excerpt From
The Certified Manager of Quality/Organizational Excellence Handbook
Internal customers are found within an organization. Who are they? How can an organization work with internal customers to effectively improve processes and services? How does an organization's treatment of its internal customers influence its processes for external customers?
Bhote discusses the term next operation as customer.4 Every function and work group in an organization is both a receiver of services and/or products from internal and/or external sources as well as a provider of services and/or products to internal and/or external customers. These interfaces between provider and receiver may be one to one, one to many, many to one, or many to many. Each receiver has needs and requirements. Whether the delivered service or product meets these needs/requirements impacts the customer's effectiveness and the quality of service/product to their customers, and so on. Examples include:
If A delivers part X to B one hour late, B may have to apply extra effort and cost to make up the time, or else perpetuate the lateness in delivering to the next customer.
Engineering designs a product based on the salesperson's understanding of the external customer's need. Production produces the product, expending material, personnel, and other costs. The external customer rejects the product because it fails to meet its needs. The provider reengineers the product; production makes a new one that the customer accepts, late. Possibly the last order from this customer.
Computer services delivers copies of a production cost report (average of 50 pages of fine print per week) to six internal customers. Computer services has established elaborate quality control of the accuracy, timeliness, and physical quality of the report. Of the six report receivers, however, only two need information of this type any longer. Neither of these two find the report directly usable for their current needs. Each has assigned clerical people to manually extract pertinent data for their specific use. All six receivers admit diligently storing the reports for the prescribed retention period. 
Production tickets, computer-printed on light card stock, are attached by removable tape to each module. When the module reaches the paint shop, it is given an acid bath, a rinse, high-temperature drying, painting, and high-temperature baking. Very few tickets survive intact and readable. The operation following the paint shop requires attaching other parts to the painted modules, depending on information contained on the ticket. Operators depend on their experience to guess which goes with what. Ninety-five percent emerge from this process correctly, a lower percentage when variations go down the line or when an experienced operator is absent.
In order to improve internal processes and services, the approach is to:
 Identify internal customer interfaces (providers of services/products and receivers of their services/products).
 Establish internal customers' service/product needs/requirements.
 Perform a gap assessment to identify areas for improvement.
 Set improvement objectives and measurements.
 Modify processes where needed.
 Implement systems for tracking and reporting performance and for supporting the continual improvement of the process.
 Document quality-level agreements between provider and receiver.
Quality Management BOK Reference
V Customer-Focused Organizations
V.A Customer Identification and Segmentation
V.A.1 Internal customers - Define and describe the impact an organization's treatment of internal customers will have on external customers. Develop methods for energizing internal customers to improve products, processes, and services and evaluate the results.
Additional Resources
Back to the
Customer Focused Organizations CMC
Back to the
Quality Management Body of Knowledge
Date Last Modified:
Jan 27, 2019