IV.C.8 Reliability Terminology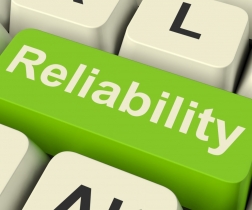 Description
Excerpt From
The Certified Manager of Quality/Organizational Excellence Handbook
Reliability refers to the probability that a product can perform its required functions for a specified period of time under stated conditions. Consistent repeatability during the useful life of the product is the objective. Important concepts are:
A product's failure conditions must be clearly stated, including its decreasing degree of performance over time.
A time interval is specified using metrics such as hours, cycles, miles, and so on, in defining the life cycle of the product.
Some products are for one-time use, such as the ignition device for a rocket. Such devices operate only when initiated or triggered, and are measured as worked as planned or failed.
Reliability engineers are concerned with how a product fails so they can compute, predict, and improve the product's reliability. One reliability model is referred to as the bathtub curve (also called life-history curve or Weibull curve) because graphically it resembles a bathtub (see Figure 15.7). Plotting the failure rate over the life cycle of a product (left to right), the stages are:
Infant mortality (burn-in period). The failure rate decreases as the next stage is reached.
Random failure (useful life period). Stable failure rate during normal use.
Wear-out. The failure rate increases until the product is no longer useful as intended.
Some methods for consideration to reduce the burn-in period are:
Stringent supplier certification
Production and quality engineers participating in design reviews
Appropriate acceptance sampling
Application of process failure mode and effects analysis (PFMEA)
Use of statistical process control methodology
Application of design for manufacturability and assembly (DFMA)
A key point to consider is that the life cycle of the entire product is dependent on the failure of the weakest (most failure-prone) element or part within the product, for example, the material used, the process used, the robustness of the design, or the unexpected, unintended improper use of the product by the buyer, the environment in which the product is used, or even regulatory restrictions not anticipated.
See the
ASQ Reliability and Risk Division
for more in-depth information.
Quality Management BOK Reference
IV Quality Management Tools
IV.C Measurement: Assessment and Metrics
IV.C.8 Reliability terminology - Recognize reliability measures such as mean time between failures (MTBF) and mean time to repair (MTTR).
Additional Resources
Back to the
Quality Management Tools CMC
Back to the
Quality Management Body of Knowledge
Date Last Modified:
May 8, 2019