IV.C.5 Trend and Pattern Analysis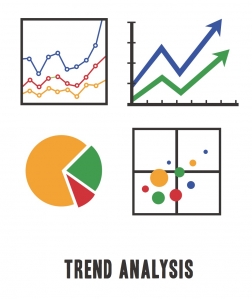 Description
Excerpt From
The Certified Manager of Quality/Organizational Excellence Handbook
Trend analysis is the process of looking at data over time in order to identify, interpret, and respond to patterns. A desired trend may be a continuous upward movement (for example, in gross sales or net margin), a continuous downward movement (for example, in customer complaints), or a sustained level of performance (for example, holding nominal specification).
Before conducting trend analysis, one must ensure that the correct things are being measured and that the measurements are accurate and able to discriminate at the desired level. Trend data must also sometimes be normalized to compensate for changes in other parameters that impact the measure being tracked. For example, tracking scrap dollars in absolute terms is not the same as tracking it as a percentage of cost of goods sold.
By themselves, measurement data do not result in continual improvement, but having data organized in a manner that supports analysis is vital.3 Analytical tools that organize data and are helpful in trend analysis include Pareto charts, check sheets, histograms, control charts (all discussed in Chapter 13, Section 1), and run charts that simply show data arranged chronologically. In analyzing a trend, it is important to distinguish a trend from a cyclic pattern and from changes in variation. Figure 15.6 portrays the distinction.
Having a clear understanding of the purpose of the data being used for trend analysis is most necessary. "A further distinction in controls is whether they provide information before, during, or after operations."4 Leading indicators are measures that can be used to predict the outcome of future events on the basis of analysis of past and current results. For example, market research to ascertain customer wants and needs, as well as what competitors are doing, might precede the determination to develop a new product. Lagging indicators depict actual trends versus expected performance levels, such as warranty claims. "A well-balanced system of executive reports makes use of leading indicators as well as indicators that lag behind operations."
As previously mentioned, it is typically expected that trended data will show a continual increase or decrease, or will maintain a consistent level. Some data, however, will exhibit other particular patterns that indicate that the process being measured is working as desired or has encountered an unexpected factor. Two other patterns that may be superimposed on the three basic trends are:
Cyclical. Some businesses or processes are affected by seasonal or other factors that cause the output to gradually increase (or decrease), then gradually return to approximately the original level. For example, the quality of product produced in a plant that is not temperature-controlled might be impacted by seasonal changes in outdoor temperatures.
Shifts. An abrupt change in an important variable (for example, a new sales initiative or change in raw material suppliers) may cause an output measure to suddenly increase or decrease. For example, facilities that operate three work shifts and do not have adequate standardization of operational methods often see significant differences in process performance at shift changeovers. 
Quality Management BOK Reference
IV Quality Management Tools
IV.C Measurement: Assessment and Metrics
IV.C.5 Trend and pattern analysis - Interpret data graphs and charts to identify cyclical, seasonal, and environmental trends. Evaluate control chart patterns to determine process shifts.
Additional Resources
Back to the
Quality Management Tools CMC
Back to the
Quality Management Body of Knowledge
Date Last Modified:
Jan 27, 2019