IV.C.4 Measurement Systems Analysis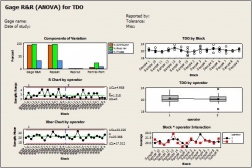 Description
What is a Gage Repeatability and Reproducibility Study?
Excerpt From
The Certified Manager of Quality/Organizational Excellence Handbook
Another measurement validation process is that of gage repeatability and reproducibility (gage R&R) studies. The purpose of an R&R study is to determine how much variation exists in the measurement system, which includes variation in the product, the gage, and the individuals using the gage. The desire is to have a measurement system whose error does not take up a large proportion of the product tolerance. Repeatability is the variation in results on a single gage when the same parts are measured repeatedly by the same person, while reproducibility is the variation from person to person using the same gage.
Calibration is a process used to maintain the performance of a measurement system. For physical measurement devices this involves determining whether, under a predefined set of conditions, the values indicated by the instrument agree with the results obtained for a standard that has been independently tested. The standards used for calibration are typically traceable back to an organization such as the National Institute of Standards and Technology (NIST) in the United States.
The terms accuracy and precision are most often used to discuss physical measurement devices, where accuracy is equivalent to validity (the correct value) and precision is how well the device can reproduce the same results when measurements are taken repeatedly (reliability).
Calibration programs typically consist of the following general requirements:
Identify all equipment that is used for measuring product quality or controlling important process variables.
Ensure that the equipment is capable of the accuracy and precision necessary for the tolerance to be measured.
Give each piece of equipment a specific identification number, and establish a frequency and method for calibration.
Calibrate the equipment using traceable or otherwise documented standards.
Perform the calibrations under known environmental conditions.
Record the calibration findings, including as-found and after-correction data.
Investigate any possible problems that may have been created by an out-of-calibration device.
Identify or otherwise control any devices that have not been calibrated or are otherwise not for use.
The principle of calibration can also be applied to nonphysical measurement applications. For example, if several people are to conduct separate interviews on the same subject, in order to calibrate all the interviewers, a set of definitions is usually developed and documented, and interviewers are trained to ensure consistent understanding and use of the terms.
Quality Management BOK Reference
IV Quality Management Tools
IV.C Measurement: Assessment and Metrics
IV.C.4 Measurement systems analysis - Define basic measurement terms: accuracy, precision, bias, and linearity. Understand the difference between repeatability and reproducibility in gauge R&R studies.
Additional Resources
Back to the
Quality Management Tools CMC
Back to the
Quality Management Body of Knowledge
Date Last Modified:
May 8, 2019