IV.C.1 Basic Statistical Use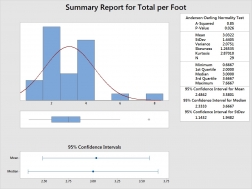 Description
Excerpt From
The Certified Manager of Quality/Organizational Excellence Handbook
Techniques and Tools to Measure Processes
To begin, go over a checklist for developing measures. Ask:
Are measures simple to understand and easy to use?
Do they have adequate and appropriate meaning to stakeholders?
Is the definition clear?
Are the data economical to gather and analyze?
Are the data verifiable and repeatable?
Does the measure make sense to those who must use it?
Is the message conveyed by the measure consistent with the organization's values, vision, mission, strategy, goals, and objectives?
Does the measure indicate trends?
Will the use of the measure cause the correct actions?
Does the measure achieve the stated purpose?
Goal–question–metric (GQM) is a method used to define measurement of the project, process, and product in such a way that:
Resulting metrics are tailored to the organization and its goal.
Resulting measurement data play a constructive and instructive role in the organization.
Metrics and their interpretation reflect the values and the viewpoints of the different groups affected (for example, developers, users, and operators).
GQM defines a measurement model on three levels:
Conceptual level (goal). A goal is defined for an object—for a variety of reasons—with respect to various models of quality, from various points of view, and relative to a particular environment.
Operational level (question). A set of questions is used to define models of the object of study and then focuses on that object to characterize the assessment or achievement of a specific goal.
Quantitative level (metric). A set of metrics, based on the models, is associated with every question in order to answer it in a measurable way.
Although originally used to define and evaluate a particular project in a particular environment, GQM can also be used for control and improvement of a single project within an organization running several projects.
The development of metrics can vary from one organization to another and depends on the project or process involved. An example of the steps in development is:
Determine how to plan a good measurement program.
Determine how to define goals, questions, metrics, and hypotheses for related processes.
Collect data.
Analyze and interpret the results, and present the results.
Quality Management BOK Reference
IV Quality Management Tools
IV.C Measurement: Assessment and Metrics
IV.C.1 Basic statistical use - Use techniques such as the goal-question-metric (GQM) model and others to identify when, what, and how to measure projects and processes. Describe how metrics and data gathering methods affect resources and vice-versa.
Additional Resources
Back to the
Quality Management Tools CMC
Back to the
Quality Management Body of Knowledge
Date Last Modified:
Jan 27, 2019