IV.B.4 Theory of constraints (TOC)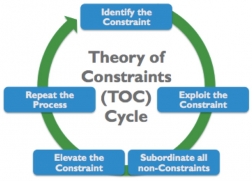 Description
Excerpt From The Certified Manager of Quality/Organizational Excellence Handbook

Most organizations have strategies, goals, objectives, and plans to do more with less. They usually have finite resources available, which tends to conflict with ever-increasing expectations from stakeholders. Traditional process improvement methods—for example, to reduce cycle time and get more done with less—have focused on Pareto analysis to pinpoint what process or problem area to tackle first. The resulting fragmented approach has often led to improving the target processes at the expense of the whole organization (suboptimization).

Among a new group of thinkers promulgating the concept of thinking of organizations as systems is Eliyahu Goldratt. Goldratt's principles in the theory of constraints (TOC) are:
The whole organization must be treated as a system.
Systems thinking is favored over analytical thinking for managing change and problem solving.
Over a period of time, the optimal system solution degenerates as changes occur in the environment. Continual improvement is necessary to refresh and sustain the system's effectiveness.
Optimum performance of a system means that only one part of the system is performing as well as it can.
Optimum system performance is not the aggregate of all the local optima.
Success or failure is dictated by how well the several processes within the system affect one another.
The system, much like a chain with individual links connecting the whole, is only as strong as its weakest link.
Little improvement occurs until the improvement of the weakest link is addressed.
The weakest link is the system's constraint.
A few core problems constitute the majority of the unwanted effects within a system.
Linking undesirable effects (UDEs) by cause and effect helps surface core problems that are not apparent.
Solving individual UDEs and neglecting the core problems leads to short-duration solutions.
Obscure underlying conflict tends to perpetuate core problems. Solution involves addressing the conflicts and abolishing at least one such conflict.
The system's current reality must be understood, and the difference between it and the goal, including the magnitude and direction.
To improve the overall system, increase throughput, decrease inventory and operating expenses (terms are modified for the not-for-profit sector).
Continual improvement can be thwarted by inertia. Solutions may appear to reject further change.
Coming up with an idea is not coming up with a solution.

Quality Management BOK Reference

IV Quality Management Tools 
IV.B Process Management 
IV.B.4 Theory of constraints (TOC) - Define key concepts of TOC; local vs. system optimization, physical vs. policy constraints, and throughput. Classify constraints in terms of finite resources and increased expectations.  ​ 

Additional Resources
Back to the Quality Management Tools CMC
Back to the Quality Management Body of Knowledge
Date Last Modified:
Jan 27, 2019