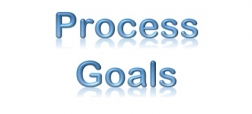 Description
Excerpt From The Certified Manager of Quality/Organizational Excellence Handbook

To begin, let's look at how process goals and process objectives are related:
Process goals are aims, intents, targets, or ends.
Process goals are supported by measurable objectives.
Process goals are linked to the strategic plan of the organization.
Process objectives represent the intended actions that are needed to achieve the process goals.
Process objectives are measurable (see the S.M.A.R.T. W.A.Y. structure for setting objectives).
Process objectives may be supported by product or service specifications, work orders, and so on.
Process objectives may also be based on maintaining the gains in a stable process, or the objectives may support the resolution of a previous performance problem or deficiency.
Process goals, derived from strategic goals, interpret and expand the top-level goals and objectives for use at the operational level. Each organization, no matter the industry, will have its own set of process goals; however, some generic topical areas may be addressed, such as:
Meeting or exceeding customer requirements for the product/service
Ensuring that the process makes a contribution to the organization's profits (or cost containment)
Ensuring that the product or service design and execution follows good practices to ensure users' safety, including unintended use
Ensuring that the product or service produced does not present a hazard to users or the environment for the life of the product or service
Ensuring the safety, security, and well-being of employees
Meeting or exceeding industry-accepted practices for a good working environment
Continually improving the process through elimination of non-value-added product/service features, process steps, and materials
Continuing the quest to reduce cycle time

Quality Management BOK Reference

IV Quality Management Tools 
IV.B Process Management 
IV.B.1 Process goals - Describe how process goals are established, monitored, and measured and evaluate their impact on product or service quality.  

Additional Resources
Back to the Quality Management Tools CMC
Back to the Quality Management Body of Knowledge
Date Last Modified:
May 8, 2019