IV.A.5 Cost of quality (COQ)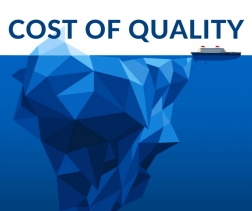 Description
Excerpt From The Certified Manager of Quality/Organizational Excellence Handbook

Cost of quality is a method used by organizations to show the financial impact of quality activities. Attaching a dollar amount to quality-related activities clarifies where there may be significant opportunities for quality improvement. Once recognized, process improvement efforts can be focused on those with the higher potential payoff.

In the 1950s Armand Feigenbaum saw value in a management reporting system focusing on quality costs, their causes, and their effects. During this time it was recognized that costs buried in standards and buried in overhead rates were not addressed. During the same period Joseph Juran wrote of the importance of measuring quality in terms best understood by upper management: dollars. These concepts were the basis of what has evolved into cost of quality programs. No one method exists for collecting and reporting an entity's quality cost drivers because each company's accounting system collects and reports costs differently. By applying the concept of cost of quality, however, any accounting or quality manager can design a meaningful measurement tool that can be used to report on and highlight quality issues, and that will help the company undertake meaningful quality improvement activities.
By the 1980s the costs of quality were categorized: failure costs (internal and external), prevention costs, and appraisal costs. In the efforts to learn more about and attempt to control the true costs of quality, certain facts became evident:
Most quality costs are not identified in the financial records and statements of the organization.
Most organizations were not aware of the cost to produce poor quality.
Increasing sales does not decrease the cost of poor quality.
The focus should really be on cost of poor quality and its impact on the organization (financial, competitiveness, customer retention and satisfaction, employee motivation).
Because it is measuring dollars, cost-of-quality reporting is one of the best tools available to raise an organization's awareness of quality issues. Some basic education on the concept and methods of cost of quality must be done, with an initial focus on top management. The educational process might also be deployed to other levels, however, as workers who understand how costs are collected and reported are more likely to understand how their work influences the company's performance.

ASQ TR2:2018: Cost of Quality: Guidelines for development, implementation and monitoring to improve quality and performance

Cost of Quality Videos

Quality Glossary - COST OF QUALITY (COQ)

Quality Management BOK Reference

IV Quality Management Tools 
IV.A Problem-Solving Tools 
IV.A.5 Cost of quality (COQ) - Define and distinguish between prevention, appraisal, internal, and external failure cost categories and evaluate the impact that changes in one category will have on the others.​ 

Additional Resources
Back to the Quality Management Tools CMC
Back to the Quality Management Body of Knowledge
Date Last Modified:
May 8, 2019