III.D.1 Quality Mission and Policy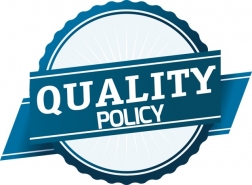 Description
Excerpt From The Certified Manager of Quality/Organizational Excellence Handbook

For most quality functions, the mission includes common elements to ensure that:
Customer focus and quality are part of the organization's mission.
All suppliers understand fundamental principles of quality.
All employees understand fundamental principles of quality and how to apply them.
All employees master the quality tools needed to carry out their mission within the organization.
The quality function mission is both derived from and an input into the organization's mission. Upward and downward organizational collaboration is essential in quality planning. A quality function mission can be developed in several successive steps:
Identify one particular service or product provided by the quality function.
Determine the customer(s) of that service or product.
Discuss with the customer(s) whether they need this service or product.- What attributes are valuable? - Which are not valuable? (Consider such attributes as speed, accuracy, schedule, packaging, or formatting.)
If a need exists, agree on the standard and measures applicable. If the service or product is not needed, eliminate it.
Quantify the gap between current practice and customer needs.
Define the actions for improvement of that particular service or product on the basis of resources and relative priorities.
Make the improvement, and track results.
Evaluate results, and review lessons learned.
Maintain the gains.
Do it again.
The quality function mission statement should be clear and complete so that quantitative objectives and definite plans can be developed. The quality function mission statement must be linked to the organization's mission statement. 

Quality Management BOK Reference

III Management Elements and Methods 
III.D Quality System 
III.D.1 Quality mission and policy - Develop and monitor the quality mission and policy and ensure its alignment with the organization's broader mission.​ 

Additional Resources
Back to the Management Elements and Methods CMC
Back to the Quality Management Body of Knowledge
Date Last Modified:
Jan 27, 2019