III.B.4 Communications and technology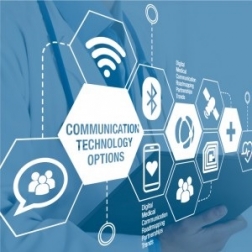 Description
Excerpt From
The Certified Manager of Quality/Organizational Excellence Handbook
Information technology (IT) plays a fundamental role in organizational communications. Following are examples of just a few changes that have occurred in organizations since computer technology became a core part of business systems:
A bank teller checks his or her employee benefits information by looking on the corporate intranet instead of reading a printed brochure formerly mailed home.
A professor sends students an e-mail message asking why they've missed class, rather than calling them by phone. 
A technician monitors performance of a machine by looking at a graphical display in a control room instead of reading an analog dial located at the machine.
A sales agent checks availability of a product by using a laptop computer (accessing the inventory database through a wireless link) or handheld e-device such as a tablet or cell phone with wireless applications, instead of looking at a two-week-old, three-inch-thick printed inventory report.
A construction firm checks the status of a shipment using the shipping company's web-based tracking system.
A vice president or sales director shares sales trends using a webinar application and sharing computer screens
Information systems are used by organizations for three primary types of tasks: operations support, day-to-day decision making, and strategic analysis. Operations support includes processing transactions, for example, a bank ATM, a point-of-sale connection in a retail store, or online registration for a conference or course. Operations support also includes process monitoring and control. Monitoring and control applications might be a robotic assembly operation or the automatic pilot on an aircraft. Day-to-day decision making is the analysis of process and business performance measures. Examples would include tracking of sales, on-time delivery, cycle time, and quality indicators, as well as financial and customer satisfaction metrics. Strategic analysis of longer-term indicators provides data for supporting decisions made from examining market sector and product line trends in order to project future business performance requirements.
Following are a few examples of how an effective information system enables analysis, control, and/or projection of performance:
A regional salesperson can compare sales with objectives, verify that the product mix is appropriate, see if the plant or warehouse is experiencing difficulty meeting requested delivery dates, and check on commissions earned in the period to date.
The regional sales manager is able to have information for managing development of specific customer types, managing the sales force, and providing performance feedback to salespersons.
The vice president of sales can access data for deciding how to allocate sales territories, manage the regional sales managers (support, coaching, performance feedback), and look at actual-versus-budget comparisons.
The marketing vice president can use cumulative information for forecasting buying trends, look at geographical differences in product preference, and evaluate the impact of regional advertising.
The operations plant manager can have early indications of product mix changes that will affect production schedules, inventories, purchases of raw materials, and the need for additional resources. 
The finance vice president can get a heads-up on any significant potential upward or downward trends in sales revenue that could impact the financial position of the organization.
The human resources vice president and staff can utilize early indications of potential needs for staffing and training.
The product development group can see how recently introduced products are selling, where traditional product sales are slumping, and where new needs may be developing.
Quality Management BOK Reference
III Management Elements and Methods
III.B Communication Skills and Abilities
III.B.4 Communications and technology - Identify how technology has affected communications, including improved information availability, its negative influence on interpersonal communications, and the new etiquette for e-communications. Use appropriate communication methods to deliver different kinds of messages in a variety of situations.
Additional Resources
Back to the
Management Elements and Methods CMC
Back to the
Quality Management Body of Knowledge
Date Last Modified:
Jan 27, 2019