III.B.3 Communications in a global economy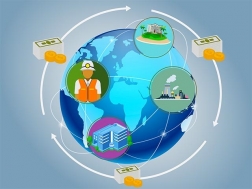 Description
Excerpt From
The Certified Manager of Quality/Organizational Excellence Handbook
The obstacles shown in Table 9.1, and more, complicate and hinder effective communication within a global enterprise. Overcoming each obstacle requires:
A commitment to find a way to overcome the obstacle.
The willingness to adopt and adapt to new ways of communicating, and to integrate those ways with the practices of the organization.
The ability to accept that there may always be differences, but the best approach that can be expected has been subjected to discussion with and consensus of the parties involved, and agreement as to the practice or protocol has been reached.
Top management's commitment to continual improvement for the mutual best interest of all stakeholders is paramount.
The following list is not intended to be a complete list of competencies in the global workplace, but merely suggestive:
Study and understand the philosophies, beliefs, regulations/laws and strategies of the global markets in which the organization does or will operate.
Understand pertinent global business protocols, procedures, and practices.
Develop global networks, both personal and organizational.
Learn the business language of the pertinent global location.
Gather information about, study, and understand the pertinent global cultures, especially as they relate to doing business.
Modify the communication media, protocols, and styles to address the needs to be faced in the targeted global location, with care taken to sustain the organization's ethics and social responsibilities.
Build or modify negotiation and decision-making skills to effectively deal with persons from the pertinent global location.
Quality Management BOK Reference
III Management Elements and Methods
III.B Communication Skills and Abilities
III.B.3 Communications in a global economy - Identify key challenges of communicating across different time zones, cultures, languages, terminology, and business practices, and identify ways of overcoming them.
Additional Resources
Back to the
Management Elements and Methods CMC
Back to the
Quality Management Body of Knowledge
Date Last Modified:
Jan 27, 2019