III.B.2 Interpersonal Skills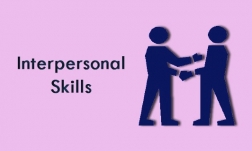 Description
Excerpt From
The Certified Manager of Quality/Organizational Excellence Handbook
Interpersonal skills and techniques the effective communicator may use include:
Showing empathy. The communicator identifies with and understands the needs and interests of the receiver. The communicator fosters a harmonious relationship with the receiver.
Tactfulness. The communicator is polite and respectful, and avoids using insensitive, vulgar, or profane language.
Open-mindedness. The communicator conveys her or his openness to consider other viewpoints and opinions. Without being hostile, the communicator provides constructive criticism when help is wanted.
Showing a friendly attitude. The communicator evokes a feeling of warmth and helpfulness to receiver.
Sensitivity. The communicator is kind and caring, attuned to receiver's feelings and concerns.
Trustworthiness. The communicator is perceived to be and/or is known to be worthy of the receiver's trust.
Ethics. The communicator embraces common codes of honor and integrity.
Fair-mindedness. The communicator treats others as equals and is fair in communicating with all constituencies.
Authenticity. The communicator is perceived as being congruent with reality. What you see and/or hear is what you get.
Quality Management BOK Reference
III Management Elements and Methods
III.B Communication Skills and Abilities
III.B.2 Interpersonal skills - Develop skills in empathy, tact, friendliness, and objectivity. Use open-minded and non-judgmental communication methods. Develop and use a clear writing style, active listening, and questioning and dialog techniques that support effective communication.
Additional Resources
Back to the
Management Elements and Methods CMC
Back to the
Quality Management Body of Knowledge
Date Last Modified:
Jan 27, 2019