III.A.7 Knowledge management (KM)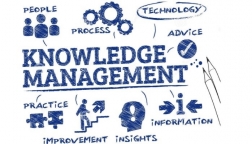 Description
Excerpt From
The Certified Manager of Quality/Organizational Excellence Handbook
One view is that knowledge is part of a hierarchy (see Figure 8.8). In this view, data are meaningless until something is done to them. Data can be stored in their raw form or they can be manipulated (sorted, categorized, analyzed, calculated, summarized, and subjected to tests). When the manipulations are completed, the data may be synthesized into information. Information has meaning, but the meaning is based on the interpretation of the user of the information. The value of the information is determined by the uses for which the information is employed. Information can be stored for future use, disseminated to others for their use, or ignored (purposely or not). Typically, information is correlated/integrated with previously known information, as well as rules, policies, procedures, regulations, and so on, to build knowledge.
Tacit knowledge consists of all the difficult-to-articulate know-how and techniques and processes that are part of an individual's and/or organization's expertise. It typically is not recorded and, while it is part of the corporate knowledge pool, there is no guarantee it will be passed on to the next generation. When an employee leaves an organization, usually the tacit knowledge retained by the employee also leaves.
Explicit knowledge is the captured and recorded knowledge that is codified and can be transmitted between individuals, that is, procedures, processes, standards, and other documents. Much of the current organizational knowledge management (KM) effort focuses on attempting to convert tacit knowledge into explicit knowledge without the loss of value.
In recent years, many organizations realized that their collective knowledge was disappearing. This may have happened because no effort was made to transform the mountains of data into knowledge for future generations to reuse. It also occurred when the human repositories of tacit knowledge left the organization. For example, Chrysler created Books of Knowledge to stop the loss of internal automaking know-how and prevent future reinvention of the wheel. The armed forces videotaped and archived many of its war games and other activities as a source for learning. The purpose of these efforts was to enable sharing of knowledge, given the high turnover of personnel.
Quality Management BOK Reference
III Management Elements and Methods
III.A Management Skills and Abilities
III.A.7 Knowledge management (KM) - Use KM techniques in identifying core competencies that create a culture and system for collecting and sharing implicit and explicit knowledge among workers, customers, competitors, and suppliers. Capture lessons learned and apply them across the organization to promote best practices. Identify typical knowledge-sharing barriers and how to overcome them.
Additional Resources
Back to the
Management Elements and Methods CMC
Back to the
Quality Management Body of Knowledge
Date Last Modified:
Jan 27, 2019