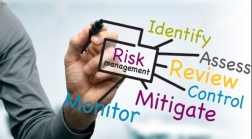 Description
Excerpt From
The Certified Manager of Quality/Organizational Excellence Handbook
Most everyone realizes that risk is present in our personal life as well as in the organizations in which we work. Risks organizations face are:
Events ranging from those causing minor disruption to those catastrophic events that affect the organization regardless of its location, financial stability, and so on.
Events that can affect each organization differently; a minor disruption to one organization but a major disaster for another.
A risk that becomes a negative event can seriously disrupt your organization's processes and make it unable to meet customer requirements. Identifying and planning for potential risks is critical in the pursuit of customer satisfaction, organizational stability, and profitability, especially under potentially adverse conditions.
The organization must determine how to respond, and there is no guarantee that responses to all exposures will be possible or feasible. After the organization has identified risk exposures and computed the potential for financial loss, one or more of five actions may be initiated:
 Find a way to avoid the exposure.
 Find ways to reduce the potential loss.
 Find ways to prevent the occasion for the loss to ever occur.
 Segregate the loss exposures to concentrate efforts on those exposures most probable to occur and/or cause the greatest loss (for example, exposure triage—minimum, medium, maximum).
 Transfer the risk (for example, through insurance or other contractual arrangement).
In addition to obtaining insurance to cover all or a portion of the potential risk, the organization may initiate contingency plans, including setting up loss reserves, a form of self-insurance. The single most effective prevention approach, however, may be to train employees to recognize hazards and potential areas for loss, and to facilitate communicating the information to appropriate management.
A short story illustrates this well. At one session in a series of employee briefings on potential hazards and risks, one employee mentioned a story his late father, a long-time employee, had told him. The story was about the time when the adjacent river crested 15 feet above normal after an unusually snowy winter upstream. The plant's buildings were badly damaged.
The organization's present management, who had all joined the company within the last five years, was unaware of this potential for loss. This was an especially relevant heads-up notice because the organization had recently planned a new facility—full of expensive new equipment—to be built along the riverbank.
In another company, an employee looked into product liability payouts after a training program. She isolated the reported causes and suggested that engineering explore ways to engineer the products to prevent customers from misusing the product—the cause for the greatest number of occurrences. A resulting engineering design change substantially reduced the number of occurrences as well as the average payout for the few misuse claims submitted. The insurance premium was also lowered. 
Assessing the potential risks for a new product at the design and development stage and taking preventive actions is extremely cost-effective. The tool to use in this assessment activity is the FMEA. The U.S. automotive sector has standardized an industry-specific approach in the Big Three's Failure Mode and Effects Analysis reference manual, but there are several ways to conduct an FMEA.
Quality Management BOK Reference
III Management Elements and Methods
III.A Management Skills and Abilities
III.A.6 Risk management
Identify the kinds of risk that can occur throughout the organization, from such diverse processes as scheduling, shipping/receiving, financials, production and operations, employee and user safety, regulatory compliance and changes. Describe and use risk control and mitigation methods: avoidance, reduction, prevention, segregation, and transfer.
Risk Management and Quality
ABCs of Implementing Risk Based Thinking
Additional Resources
Back to the
Management Elements and Methods CMC
Back to the
Quality Management Body of Knowledge
Date Last Modified:
May 8, 2019