III.A.1 Principles of Management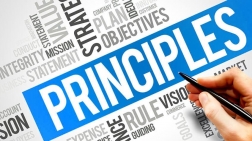 Description
Excerpt From
The Certified Manager of Quality/Organizational Excellence Handbook
What business are we in? What resources do we need in order to succeed? How should those resources be organized? What skills and information do employees need in order to do their jobs? How do we know how well we're doing? What should we do if things aren't going well, or if we want to improve?
These are just some of the questions asked by management as part of attending to the processes for which it is responsible. The processes of management (POSDC) are often described in the following categories:
Planning is the setting of goals and objectives and the methods for achieving them.
Organizing involves structuring the organization and the work to be done, obtaining and allocating resources in order to carry out the plans.
Staffing includes acquiring and placing the right people for the right job as well as further developing their competencies.
Directing is guiding members of the organization (see Chapter 1) to achieve the mission, plans, and objectives of the organizational work unit.
Controlling involves monitoring activities and results to ensure that desired outputs and outcomes are obtained.
On a macro or long-term level, planning involves defining the vision and mission of the organization as well as the values and principles by which the company will operate. It involves defining the business's goals and objectives, strategies to be used for each product, service, and/or customer segment, and ensuring that appropriate systems and structures are created to carry out strategy. Planning must occur for the overall organization as well as subunits within it (for example, divisions, departments, and work units). The strategic processes are further defined in Chapters 5, 6, and 7.
Operational planning has a shorter-term perspective, and involves activities such as:
Setting short-term objectives (for example, which university courses will be offered during the upcoming semester)
Analysis, planning, and allocation of capacity and material (for example, how many flu shots are expected to be needed by a local community health clinic, and how many nurses will be needed where and on what days)
Planning needed resources (for example, assuring sufficient inventory of winter road salt for a highway department depot)
Setting out timelines (for example, when user training and operational conversion to a new customer relationship management software package will occur)
Quality Management BOK Reference
III Management Elements and Methods
III.A Management Skills and Abilities
III.A.1 Principles of management - Define and apply basic management principles such as planning, leading, delegating, controlling, organizing, and resourcing, in various situations.
Additional Resources
Back to the
Management Elements and Methods CMC
Back to the
Quality Management Body of Knowledge
Date Last Modified:
Jan 27, 2019