II.C.4 Quality in Strategic Deployment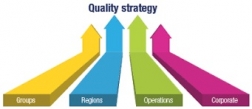 Description
Excerpt From
The Certified Manager of Quality/Organizational Excellence Handbook
The quality function or department can take several types of support actions relative to the strategic plan's deployment, as well as ensure that the voice of the customer is addressed throughout the organization's processes.
Quality should be integrated with the organization's strategic plans. In a very small organization, most personnel are familiar with all the organization's knowledge, goals, policies, and procedures, much of which may not be documented. As organizations grow in size and complexity, personnel are added, many of whom make significant decisions. To ensure consistency and understanding throughout the organization, quality policies need to be defined, documented, and communicated.
A policy is a high-level, overall plan embracing the general goals, objectives, and acceptable practices of an organization. Policies state how goals will be achieved, and are intended to guide decisions. They are future oriented, sometimes for the indefinite future and sometimes conditioned on the presence or absence of some constraining factor. As visions, strategic goals, and objectives are unique to each organization, policies are also (in general) unique to an organization.
A quality policy is a formalized document created to communicate the overall intentions and directions of the organization relative to quality. The quality policy is a guide indicating the principles to be followed or what is to be done, but does not stipulate how. The quality policy should summarize the organization's view on the definition of quality, the importance of quality, quality competitiveness, customer relations, internal customers, workforce involvement, quality improvement, planning and organization, and additional subject matter as required. Examples of quality policy statements are:
Our products shall be free from all unacceptable substances that may cause property damage or impact the personal health of employees, customers, or suppliers, and shall meet all applicable standards and regulations.
We will deliver products and services that meet or exceed customers' requirements, on time, and at competitive prices.
Our policy is to build long-term relationships with customers and suppliers that commit to high quality and continual improvement, as we do.
Our commitment to quality without compromise will be sustained through state-of-the-art technology, cost-effective solutions, customization, customer support and training, and investment in research and development of ever better products and services.
Quality Management BOK Reference
II Strategic Plan Development and Deployment
II.C Strategic Plan Deployment
II.C.4 Quality in strategic deployment - Support strategic plan deployment by applying continuous improvement and other quality initiatives to drive performance outcomes throughout the organization.
Additional Resources
Back to the
Strategic Plan Development and Deployment CMC Page
Back to the
Quality Management Body of Knowledge
Date Last Modified:
Sep 21, 2020