II.B.6 Legal and Regulatory Factors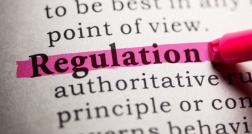 Description
Excerpt From
The Certified Manager of Quality/Organizational Excellence Handbook
Legal factors relate to laws, the lawmaking process, and rules for litigation. Laws are established by city, county, province, state, or federal governments—and enforceable by threat of punishment.
Understanding the legal requirements of the following is suggested:
Employment-related laws and litigation
Product/service liability
Environment liability
Protection of intellectual property (patents, copyrights, trademarks)
Contract-related liability pertaining to customer orders
Ramifications of the Sarbanes-Oxley Act
Antitrust laws
Trade protectionism
Regulations are established by agencies within governments as well as outside organizations, for example, industry associations, self-regulating bodies, and professional societies. Regulations are enforced through self-regulation under the threat of disenfranchisement. Regulations are principles or rules designed to control or govern behavior. In theory, they are voluntary, but often have the force of law. Regulations may span a whole industry, or segments within industries may each have their own specific regulations. Identifying and understanding the pertinent rules and regulations is critical.
Quality Management BOK Reference
II Strategic Plan Development and Deployment
II.B Business Environment Analysis
II.B.6 Legal and regulatory factors
Additional Resources
Back to the
Strategic Plan Development and Deployment CMC Page
Back to the
Quality Management Body of Knowledge
Date Last Modified:
Sep 21, 2020