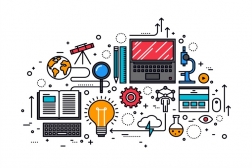 Description
ASQ.org:
Quality 4.0 Resources
Webinar Recording: Managing Quality 4.0 combining ISO 25010 Criteria and ITIL practices with Dan Zrymiak
Excerpt From
The Certified Manager of Quality/Organizational Excellence Handbook
In today's rapidly changing world, a new technological development can have a dramatic impact on the life and sustainability of an organization. Organizations must have a means for detecting technology developments, assessing the potential for use in their industry and organization, and effectively implementing those technologies that will likely provide an advantage. Technology may include:
Electronic-based technologies used for communicating
Product or service technology
Production or service process technology
Support systems technology (for example, designed to serve marketing, engineering, production, customer service, finance, human resources, suppliers, knowledge management, and so on)
Hardware, software, storage media
Technological developments can enable the creation of entirely new products (for example, handheld devices, distance learning) or may be incorporated into a product or a service process to enhance functionality or reduce costs (for example, online flight reservations, e-tickets, and self-printed boarding passes, even biologically implanted monitoring devices). The fact that technological changes often occur outside an organization's industry means that organizations must be continually scanning the environment to identify potential threats and opportunities. A change in one technology can also quickly obsolete another technology (for example, the demise of typewriters, floppy disks, auto carburetors, and a myriad of other now obsolete technologies) or dramatically shorten an expected product life cycle.
Quality Management BOK Reference
II Strategic Plan Development and Deployment
II.B Business Environment Analysis
II.B.4 Technology - Describe how changes in technology can have long- and short-term influences on strategic planning .
Additional Resources
Back to the
Strategic Plan Development and Deployment CMC Page
Back to the
Quality Management Body of Knowledge
Date Last Modified:
Sep 23, 2020