II.B.3 Stakeholder Analysis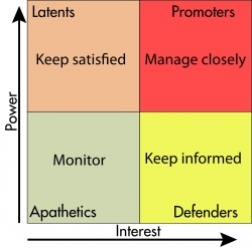 Description
Excerpt From
The Certified Manager of Quality/Organizational Excellence Handbook
Stakeholders are individuals, groups, or organizations who will be directly or indirectly affected by an organization carrying out its mission. Although employees, suppliers, customers, community, and shareholders are the stakeholders having the most directly at stake, others such as accrediting organizations, unions, regulatory organizations, and special interest groups can also affect outcomes and should therefore not be ignored.
All stakeholders have particular issues, priorities, and concerns, and it is important that an organization understand each of the stakeholder groups and the issues most important to them. For example, one company may draw a large proportion of its workforce from college students who primarily desire part-time work to help cover tuition until graduation, while another company may consist primarily of middle-aged parents who are concerned about health benefits for their families.
The organization should take steps not only to identify each stakeholder group, but also their interests relative to the organization. An assessment should be done to identify gaps between the objectives and plans of the organization and the needs and interests of stakeholders, and action taken to close the gaps where feasible (see Figure 6.3). The impact of gaps should be considered especially as it relates to legal risks, employee and community health, and viability of the product/service in the marketplace. Efforts should then be focused on the vital few issues.
Quality Management BOK Reference
II Strategic Plan Development and Deployment
II.B Business Environment Analysis
II.B.3 Stakeholder analysis - Identify and differentiate various internal and external stakeholders, as well as their perspectives, needs, and objectives, to ensure that the organization's strategic objectives are aligned with those of the stakeholders.
Additional Resources
Back to the
Strategic Plan Development and Deployment CMC Page
Back to the
Quality Management Body of Knowledge
Date Last Modified:
Sep 21, 2020