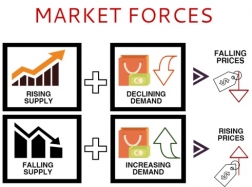 Description
Excerpt From
The Certified Manager of Quality/Organizational Excellence Handbook
For any product or service to be successful, it must be an effective fit to the economic environment. When shaping strategy, an organization should look for general trends in the marketplace, trends within the industry of which it is a part, and competitor strategies. The competitive landscape is impacted by the strategies of customers and suppliers.
Information on these issues may often be gathered from government sources, newspapers, television, the internet, direct marketing ads, industry groups or publications, trade shows, customers and suppliers, and the annual financial reports of public companies. Some competitive intelligence gathering may be subcontracted to firms who specialize in this area, but management (and in the best organizations, all employees) should continually be on the lookout for changes that can provide opportunities or create threats to present and future strategy.
Some general marketplace issues for which information should be gathered include:
Government subsidies that can help offset internal or raw material costs, or make competitor products less expensive
Trade restrictions or tariffs that limit (either by fiat or through economic incentives or disincentives) what can be sold to or purchased from particular markets
Changes to international monetary exchange rates that have the effect of raising or lowering prices of raw materials used by the organization, or the selling price for goods sold in global markets
Social concerns, demographic or political changes, or other societal issues that may create opportunities or threats for the organization and/or its products
Inflation, deflation, or changes in lending rates that impact the costs of borrowing money and of raw materials and labor
Economic cycles that affect demand for various products (for example, luxury goods)
Market expansion, stability, or contraction that impacts demand for products (for example, in other countries, the opening up of new markets as a result of changes in political and economic philosophies)
Social or economic differences (for example, values, relative purchasing power) between regions or countries
Some general issues to watch for relative to specific industries are:
Amount of capacity currently in existence in the industry relative to total market demand, and the rate at which demand and capacity are changing. For example, in industries where capacity is added in large blocks, if many organizations chase the same existing opportunity, an overcapacity situation may result, creating overstocking and pricing pressures.
Mergers and acquisitions that consolidate the number of players and may provide greater economic leverage for some.
Place in the life cycle of a particular product (for example, is it a brand-new or mature product?) and how that impacts profitability and growth potential.
Potential for an entirely new product or service, or a less expensive version of the existing product or service, coming to market.
Speed of change in the industry, and how it might call for breakthrough versus incremental change.
Trends toward or away from regulation of the industry.
Whether the product/service requires a local or globally focused design orientation.
Whether the cost of entry for new players in the industry is high or low, and how this affects product, capacity, and pricing issues.
How much specialized knowledge and/or technology is required for the product/service, and how much of a barrier that may create for new entrants.
How does/will the bargaining power of customers affect strategy? For example:
– Just-in-time buyers offering long-term contracts, but expecting price reductions
– Large-volume customers demanding price and delivery advantages
– Customers pulling back presently outsourced services
– Customers changing to more standard products, making it easier for them to switch suppliers
– Customers in a financial crisis expecting concessions from their suppliers
Quality Management BOK Reference
II Strategic Plan Development and Deployment
II.B Business Environment Analysis
II.B.2 Market forces Define and describe various forces that drive strategic plans, including existing competition, the entry of new competitors, rivalry among competitors, the threat of substitutes, bargaining power of buyers and suppliers, current economic conditions, and how well the organization is positioned for growth and changing customer expectations.
Additional Resources
Back to the
Strategic Plan Development and Deployment CMC Page
Back to the
Quality Management Body of Knowledge
Date Last Modified:
Sep 21, 2020