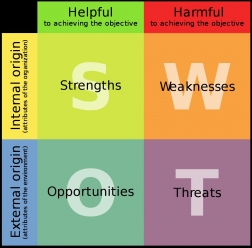 Description
Web-based interaction for SWOT Analysis by Kurt Stuke
Excerpt From
The Certified Manager of Quality/Organizational Excellence Handbook
.
A common component of the strategic planning process involves looking at both current internal strengths and weaknesses of the organization's operations, as well as future opportunities and threats in the external marketplace. A SWOT analysis is a systematic assessment of an organization's internal and external environment, and identifies attributes that affect its ability to achieve its vision and to improve and protect its competitive position. A SWOT analysis looks at how the organization fits to the current reality. Following are some of the factors that are looked at in a SWOT analysis.
Strengths and weaknesses (focused on internal environment) may include:
How strong is the organization's image and/or name/brand in the marketplace?
How strong (stable, effective, flexible) is the organization's leadership?
How effective is the organization structure?
How stable is the current and future financial strength of the organization?
How do features and costs of products/services compare to competitors, and where are products/services in their probable life cycle?
Is the organization well focused on a clearly defined vital few issues, or are efforts widely dispersed?
How innovative is the organization? What is the track record of new products/services? Is there a strong research and development effort ongoing?
How effective are the organization's efforts toward continual improvement?
What is the condition (for example, age, flexibility, capacity) of major assets (for example, key employees, technology, facilities), and how does that impact the organization's capacity and capability to sustain the organization?
What additional resources does the organization have available (for example, employees, stakeholders, capital) to enable change?
Depending on the answers to questions like these, the action might be to build on the strengths and address the weaknesses. In addressing the deficiencies, there are several options:
Remove the deficiency by changing the goal or objective to make fulfillment achievable.
Invest more in the people, technology, physical assets, improvement efforts, and so on, to be able to turn the deficiency into a strength.
Outsource parts or all of the process to another organization that can fulfill the process requirements more effectively.
Sell the part of the business that causes the present deficiency.
Quality Management BOK Reference
II Strategic Plan Development and Deployment
II.B Business Environment Analysis
II.B.1 SWOT analysis - Analyze an organization's strengths, weaknesses, opportunities, and threats, and develop and prioritize actions to take in response to that analysis. Identify and analyze risk factors that can influence strategic plans
Additional Resources
Back to the
Strategic Plan Development and Deployment CMC Page
Back to the
Quality Management Body of Knowledge
Date Last Modified:
Sep 21, 2020