II.A Strategic Planning Models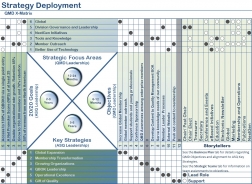 Description
Excerpt from
The Certified Manager of Quality/ Organizational Excellence Handbook
An organization's strategy defines what it strives to become and the means by which it will achieve it. Tregoe and Zimmerman define strategy as "the framework which guides those choices that determine the nature and direction of an organization."1 Mintzberg further describes strategy as a plan or a course of action into the future, as a pattern providing consistency in behavior over time, as a position, namely, the determination of particular products in particular markets, and as a perspective, namely, an organization's way of doing things.2
Strategic planning is the continuous process of making present entrepreneurial decisions systematically and with the greatest knowledge of their futurity, organizing systematically the efforts needed to carry out these decisions, and measuring the results of these decisions against the expectations through organized, systematic feedback.3 Planning is a continual process because the competitive environment is dynamic. Effective, continual planning guides an organization toward achievement of goals and prepares it for changes in internal and external factors that can affect its future.4
The origin of the term strategic plan has been traced to H. Igor Ansoff's Corporate Strategy, published in 1965. For the following two decades, Ansoff continued to write about this concept of planning and managing with a strategic intent. By the mid-1990s, Henry Mintzberg had contributed a vast amount of writing on strategic planning. A critical factor in strategic planning is the subject of quality.
Long-range planning, a term often confused with strategic planning, consists of extrapolating future plans based on what is known of current operations. In this sense, long-range planning and forecasting are synonymous. Strategic planning develops a view of the future, then delineates plans for the near term that will, when achieved, address the future needs as envisioned.
The Baldrige Performance Excellence Program criteria describe strategic planning as the process that addresses strategic and business planning and deployment of plans, with strong customer and operational performance requirements. The award's strategic planning category emphasizes that customer-driven quality and operational performance excellence are key strategic business issues integral to an organization's planning.
The span of a strategic plan may be as short as two or three months (for fast-moving organizations in a rapidly changing marketplace) to 30 years or more for a public utility (planning electric generation capacity for the future with an average of 30 years to find and acquire land, design, certify, and put a new plant into operation). For most organizations, the planning span is three to five years.
Watson Webinar Series - Managing for Quality
by Dr Gregory Watson
Strategy Management with a Strategy Map and its Balanced Scorecard - Webinar by Gary Cokins
Strategic Planning and Hoshin Kanri by Jd Marhevko and Eric Zink
Quality Management BOK Reference
II Strategic Plan Development and Deployment
II.A Strategic Planning Models - Define, describe, and use basic elements of strategic planning models, including how mission, vision, and values as guiding principles relate to the plan.
Additional Resources
Back to the
Strategic Plan Development and Deployment CMC Page
Back to the
Quality Management Body of Knowledge
Date Last Modified:
Nov 13, 2020