I.C.3 Team-building Techniques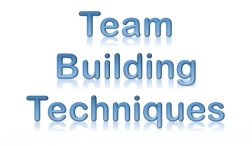 Description
Excerpt From The Certified Manager of Quality/Organizational Excellence Handbook

There are two major groups of components in team processes—task-type and maintenance-type. Task-type processes keep a team focused and moving toward its goal, while maintenance processes help build and preserve the effectiveness of relationships between team members. Key task components include:
Reviewing and documenting the team's objective(s).
Preparing an agenda for every team meeting and staying focused on the agenda. If other issues come up that need to be addressed, the agenda can either be intentionally modified, or new issues can be placed on a list for the next meeting agenda.
Defining or selecting, and following a technical process that fits the particular project mission (for example, a seven-step problem-solving model if the team is trying to solve a problem; see Chapter 13).
Using decision-making techniques (for example, consensus, consultative) appropriate to the situation.
Defining action items, responsibilities, and timing, and holding team members accountable.

Maintenance tasks are somewhat less easily defined, but can also dramatically impact team performance. An outsider might see only the tasks involved with meeting objectives as important, but for team members, the dynamics of interactions between team members can be just as critical. Theories and practices of team dynamics have come from fields as diverse as sociology, psychology, anthropology, organizational development, and political science, where group behavior has been studied in working, living, academic, and therapeutic environments.

Team maintenance tasks are meant to help alleviate the problems created by the fact that each individual on the team has his/her own perspectives and priorities. These are shaped by individual personality, current issues in the person's personal life, and the attitudes of both the formal and informal groups within the organization to which the individual belongs. This means that although the team may have a specific objective and agenda, each individual perceives things differently.

Quality Management BOK Reference

I Leadership 
I.C Teams and Team Processes
I.C.3 Team-building techniques - Apply basic team-building steps such as using ice-breaker activities to enhance team introductions and membership, developing a common vision and agreement on team objectives, identifying and assigning specific roles on the team. 

Additional Resources
Back to the Leadership CMC
Back to the Quality Management Body of Knowledge
Date Last Modified:
Sep 21, 2020