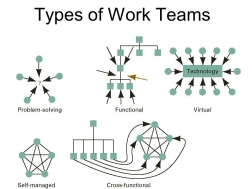 Description
What is a team?

Excerpt From The Certified Manager of Quality/Organizational Excellence Handbook

Consider the differences between a baseball team, a jazz quartet, and a bomb squad. They differ according to the number of members, the range and complexity of skills required, the forms of leadership used, the frequency of working together, and the total time spent working together. As Louis Sullivan, a mentor of Frank Lloyd Wright, stated, "form follows function," and this also applies to teams. Although they may take different names in different industries or organizations, this section presents eight types of teams:
Process improvement teams
Self-managed teams
Temporary/ad hoc teams
Work groups
Cellular teams
Special project teams
Virtual teams
Combinations of two or more of the above types
Quality Management BOK Reference
I Leadership 
I.C Teams and Team Processes 
I.C.1 Types of teams - Identify different types of teams and their purpose, including process improvement, self-managed, temporary or ad hoc (special project), and work groups or workcells. 
Additional Resources
Back to the
Leadership CMC
Back to the
Quality Management Body of Knowledge
Date Last Modified:
Sep 21, 2020