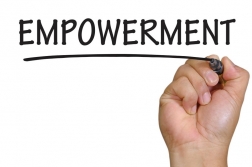 Description
What is Employee Empowerment?

Quality: People Before Process - Article by Jeff Griffiths
How To Create Environments Where People And Results Flourish - Article by Tiziana (Tiz) Benvenuto

Excerpt From The Certified Manager of Quality/Organizational Excellence Handbook

One of the core components of quality leadership is having everyone in the organization involved in managing and improving quality of the processes for which they are responsible. This might be done as part of day-to-day operations as a member of a natural work team or a self-directed team, or in becoming part of a group that is going to take on a special process design or improvement project. Regardless of the way it occurs, it involves giving employees greater responsibility and authority, and is commonly labeled empowerment.

Empowerment is based on the belief that employees have the ability to take on more responsibility and authority than has traditionally been given them, and that heightened productivity and a better quality of work life will result. Different words and phrases are used to define empowerment, but most are variations on a theme: to provide employees with the means for making influential decisions. Juran defined empowerment as "conferring the right to make decisions and take action.

Empowerment means different things in different organizations, depending on culture and work design; however, empowerment is based on the concepts of job enlargement and job enrichment. Job enlargement means changing the scope of the job to include a greater portion of the horizontal process. An example would be a bank teller who not only handles deposits and disbursements, but now distributes traveler's checks and sells certificates of deposit. Job enrichment means increasing the depth of the job to include responsibilities that have been traditionally carried out at higher levels of the organization. An example would be if a bank teller also had the authority to help a client fill out a loan application and complete initial screening to determine whether or not to refer the customer to the loan officer.

As these examples show, empowerment of employees will require:
A work environment and managing style that supports empowerment
Training in the skills necessary in order to carry out the additional responsibilities
Access to information on which decisions can be made
Willingness and confidence on the part of the employee to take on greater responsibility
Empowerment also means management giving up some of the power traditionally held by it, which means management must take on new roles and responsibilities and gain new knowledge. It does not mean that management relinquishes all authority, totally delegates decision making, and allows operating without accountability. It requires a significant investment of time and effort to develop mutual trust, assess, and add to individuals' competencies, as well as develop clear agreements about roles, responsibilities, risk taking, and boundaries.

Empowerment is difficult to implement because it is often a major culture change from past ways of working. It involves behavioral changes in all members of the organization: management, operations personnel, and support staff. Therefore, it is critical that the organization lay the appropriate groundwork. To start, an organization should develop an operational definition of empowerment and communicate a strong commitment to it, starting with top management. It should develop a time-phased implementation plan and build or modify the necessary organizational systems to support empowerment.

Quality Management BOK Reference

I Leadership 
I.B Leadership Challenges 
I.B.5 Empowerment - Apply various techniques to empower individuals and teams. Identify typical obstacles to empowerment and appropriate strategies for overcoming them. Describe and distinguish between job enrichment and job enlargement, job design and job tasks.​ 

Additional Resources
Back to the Leadership CMC
Back to the Quality Management Body of Knowledge
Date Last Modified:
Mar 29, 2021