IV.C.7 Process capability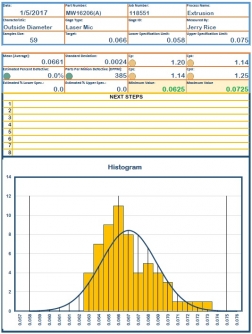 Description
Excerpt From
The Certified Manager of Quality/Organizational Excellence Handbook
Process capability
is the range within which a process is normally able to operate given the inherent variation due to design and selection of materials, equipment, people, and process steps. Knowing the capability of a process means knowing whether a specification can be held if the process is in control.  
More simply put, process capability is a measure of how well normal process variation fits in the specification limits. There are a couple rules to follow for process capability to work for you:  
The process must be normal before you can make an accurate prediction of process capability.
The sample size needs to be big enough to approximate a normal distribution. A capability study should be based on a sample of at least 30 measurement values from the process.
The Quality Management Division has developed a simple tool you can use to report process capability measures.   
Quality Management BOK Reference
IV Quality Management Tools
IV.C Measurement: Assessment and Metrics
IV.C.7 Process capability - Recognize process capability (Cp and Cpk,) and performance indices (Pp and Ppk).  
Additional Resources
Back to the
Quality Management Tools CMC
Back to the
Quality Management Body of Knowledge
File
Introduction to Process Capability
QMD Video Learning Series
143656 KB
File
Process Capability Report Template
Tool for caclulating and reporting process capability.
41 KB
Date Last Modified:
May 8, 2019