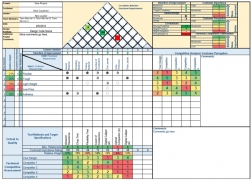 Description
Quality function deployment (QFD)
, is a methodology that helps translate a customer voice input on needs / wants from qualitative constructs into operational requirements. Using a tool called House of Quality, we are able look into the relationships (correlations) between customer needs and product characteristics, and use these to set priorities in the way a product is designed or delivered. In this way, QFD translates the customers' voice into product and service characteristics that will result in increased levels of customer satisfaction.
Excerpt From
The Certified Manager of Quality/Organizational Excellence Handbook
QFD has been used to develop products that delight the customer by providing features that are beyond their stated requirements. In many cases, the customer did not know that these options were possible, so they were not on a list of needs or priorities. By comparing the customer's requirements to product and service features, the company typically focuses on identifying and prioritizing the agreements and gaps. From this analysis, innovative new offerings are more likely to become apparent. These can provide a greater probability of moving the company into the "delighting" quality level. Findings from a competitive analysis may also identify opportunities for significant improvement.
From Wikipedia:
Quality function deployment (QFD) is a method developed in Japan beginning in 1966 to help transform the voice of the customer into engineering characteristics for a product.[1][2] Yoji Akao, the original developer, described QFD as a "method to transform qualitative user demands into quantitative parameters, to deploy the functions forming quality, and to deploy methods for achieving the design quality into subsystems and component parts, and ultimately to specific elements of the manufacturing process."[1] The author combined his work in quality assurance and quality control points with function deployment used in value engineering.
 
The house of quality, a part of QFD,[3] is the basic design tool of quality function deployment.[4] It identifies and classifies customer desires, identifies the importance of those desires, identifies engineering characteristics which may be relevant to those desires, correlates the two, allows for verification of those correlations, and then assigns objectives and priorities for the system requirements.[2] This process can be applied at any system composition level (e.g. system, subsystem, or component) in the design of a product, and can allow for assessment of different abstractions of a system.[2] The house of quality appeared in 1972 in the design of an oil tanker by Mitsubishi Heavy Industries.[4]
Quality Function Deployment - ASQ.org
Introduction to House of Quality - Single Point Learning Module
Download the QMD House of Quality Tool here
Voice of the Customer 
House of Quality
QFD Institute
ISO 16355-1:2015
 - Application of statistical and related methods to new technology and product development process — Part 1: General principles and perspectives of Quality Function Deployment (QFD)
Quality Management BOK Reference
V Customer Focused Organizations
V.B Customer Relationship Management
V.B.1 Customer needs - Use quality function deployment (QFD) to analyze customer needs in relation to products and services offered. Use the results of the analysis to prioritize new, future development in anticipation of changing customer needs.
Additional Resources
Back to the
Customer Focused Organizations CMC
Back to the
Quality Management Body of Knowledge
Date Last Modified:
Dec 29, 2020