Layered Process Audits - LPA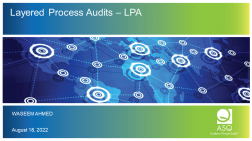 Description
ASQ Hamilton Webinar -- Layered Process Audits - LPA
Today, the key to success for organizations is how they keep their customer satisfied. Customer satisfaction is directly linked with the ability of the organization to consistently provide products and services as per the customer's expectations and requirements. Process control and compliance play vital roles in maintaining the quality of products and services. One of the effective and proven tools to control processes and their variations is Layered Process Audits – LPAs. LPA Program is a structured way to verify that work is performed as originally intended, resulting in improved performance metrics.
In this presentation, Waseem went over the LPA program based on AIAG CQI 8 requirements. He showed how to make LPA programs more effective and that delivers value to your businesses and your customers.
---
Waseem's Bio
Waseem is a Quality professional with 25 years of experience in the Operations and the Manufacturing fields. His expertise revolves around customer satisfaction, Business Management Systems, Operational Excellence, and waste and process variation reductions. He utilizes the combination of his process approach, problem solving skills, and Lean Sigma methodologies to tackle any product, process, or system issues and to improve the manufacturing and business processes. Waseem always built a strong Quality foundation for the employers that he worked for.
Waseem has been known as an expert in the Quality arena. His specialties include the areas in Quality Systems, APQP, FMEA, PPAP, Quality Audits, New Product Development, LPA, Supplier Quality, Supplier Development, Change Management, Team building, Lean Manufacturing, Six Sigma, and Process Engineering.
Waseem received his Bachelor's degree in Mechanical Engineering from NED University. He has been a long term ASQ member who is a successful change agent for over 15 years in his career. Being the subject matter expert, Waseem is helping and supporting several global Quality professionals in improving their skillsets and shifting their mindsets in the advanced business directions.
File
pre_LPA_WAhmed_20220818.pptx
PowerPoint presentation; 11 slides; 16:9 aspect ratio
791 KB
Date Last Modified:
Sep 7, 2022