Securing the Future of Organization in Uncertain Times & Applying "Jobs To Be Done" Theory -- Sunil Thawani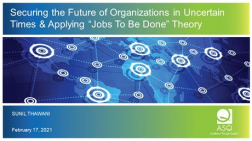 Description
Part of the ASQ Canada/Greenland Region Webinar Series for 2021
In the current times, businesses are craving certainty. Traditional models of forecasting, preparing five-year business plans and a strong focus on process control, efficiencies etc. are being challenged.
To cope with complexities & uncertainties, organizations are adapting to strike a balance among predictability and efficiencies and embracing ambiguity and uncertainty.
This webinar will share key strategies that organizations can consider adopting to sustain current operations and secure the future such as "Sensing the Environment", "Agility", Scenario Planning", "Jobs To Be Done Theory" etc.
This webinar will dive a little deeper into "Jobs To Be Done Theory" using exercises. This theory was developed by Prof. Clayton M. Christensen, Professor Harvard Business School, who revolutionized the business with his ground-breaking Theory of Disruption. Jobs To Be Done Theory tries to answer "What Causes Customers to buy products/ services?" and sees the customer needs, their expectations and customer segmentation from a totally different lens by understanding the job the customer is trying to do with products and services.
---
Sunil's Bio
Mr. Sunil Thawani is an Author, Speaker and Fellow with the American Society for Quality (ASQ) & CEO of Quality Indeed Consulting Ltd., U.A.E. Sunil is a recipient of prestigious ASQ Lancaster Medal for his dedication and outstanding contributions to the International Fraternity of Quality Professionals.
Sunil has assisted many organizations from diverse sectors of the economy to implement principles and frameworks like EFQM, UAE's 4th Generation Model to improve their performance, customer experience and governance.
In the past he has served as ASQ Member, ASQ Board of Directors and Member of the Jury for Dubai Quality Award with the Government of Dubai.  His current focus and passion is helping organizations focus on supporting vulnerable segments of the society like providing Alternate Care to Children, National Housing programs for needy and applying principles and concepts of quality & excellence. He actively promotes the United Nations Sustainable Development Goals 2030 in the community.
He has presented and published 50 technical papers and case studies in journals & conferences related to EFQM, ISO: 9000, BPM, Benchmarking. These papers are available on 
www.qualityindeed.com
.
He has had the honor of meeting the Honorable Prime Ministers of India and of the U.A.E and several other Ministers of India, U.A.E., Ecuador, Lebanon, Slovenia, South Africa etc.
From 1984 to 1985 Sunil travelled around the world on motorcycle through 23 countries when there was no internet, GPS, Google Maps etc. and relied on paper maps and people. (
www.worldwideonwheels.com
).
Sunil lives in Dubai and can be contacted at 
contact@qualityindeed.com
.
File
pre_JobsToBeDoneAndSecuringFuture_SThawani_20210217.pdf
PDF of the PowerPoint presentation; 24 slides; 16:9 aspect ratio
2176 KB