Problem Solving Approaches and Quality Control Circles -- Adeel Syed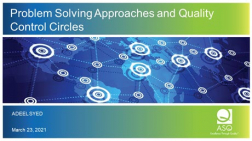 Description
ASQ Hamilton Webinar -- Problem Solving Approaches and Quality Control Circles
There are multiple approaches, which organizations adopt to solve their day-to-day problems. The key is to select the right approach and tools based on the nature and criticality of the problems. When it comes to chronic issues/problems and innovative solutions, one of the best approaches is a team-based problem-solving tool known as "Quality Control Circle (QCC)". This tool helps organizations involve their employees in continuously striving for improvement in their work. QCC usually functions as an integral part of Total Quality Management (TQM). The quality of this tool is that it is not limited to some specific industries or culture, but it is applicable anywhere because it invokes universal values.

In this presentation, Adeel will give you insights as to how organizations can take steps to adopt and implement "Quality Control Circles" and effectively involve their employees from all levels in saving cost and resolving the chronic functional and shop floor issues.
 
---
Adeel's Bio
Adeel has over 20 years of experience in the field of Quality and Operations Excellence in different industries including, Automotive, Steel industry, Process industry and HVAC. He has worked with globally renowned companies such as: Honda Motors, GS Yuasa, and Welded Tube of Canada. He is presently working with Gates Corporation and is responsible for Continuous improvement of processes and management systems of five North American Plants located in US, Canada and Mexico.

Adeel is a Mechanical Engineer and did his Master of Engineering (Manufacturing) and Master of Business Administration (MBA) with majors in Supply Chain and Finance. He is presently a senior member of ASQ and Chair Elect of Hamilton Chapter, holding certifications as a Quality Engineer (CQE) and a Six Sigma Black Belt (CSSBB). He is also Lead Auditor of different management systems such as Quality Management System, Environment Management System and Occupational Health and Safety Series. While working with Honda Motors and GS Yuasa Japan, he led the Quality Control Circle activities, which resulted in improving processes and saving manufacturing costs worth millions of Yens (¥).
File
pre_QualityControlCircles_ASyed_20210323.pdf
PDF of the PowerPoint presentation; 57 slides; 4:3 aspect ratio
1915 KB