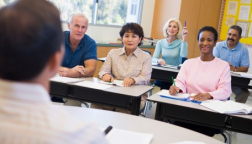 Description
The Value of ASQ Certification
ASQ Certification is an investment in your career as a quality professional. As an achievement, it demonstrates that you have obtained a proficiency and comprehension in a quality discipline specific to a professional body of knowledge which is recognized globally.  Increase your competitive advantage as a dedicated professional.
Call for Instructors
ASQMV is proud of the educational courses that have been offered to the member and non-member community during the past several decades.  But, this was only possible through the dedicated effort of individuals who stood out and offered their skills and knowledge to instruct and educate fellow quality professionals. If you are such an individual who would like to be an ASQ educational leader and continue the proud heritage of aiding in the education and preparation of your fellow members and non-members in improving their knowledge of the quality profession and preparation on the road to ASQ certification.  ASQMV is looking for instructors in the various certification disciplines as well as courses that build on certification knowledge such as statistics and auditing to the various industry standards. Please contact the Education Chair.
Instructor Biographies (See Below)
William R. Caswell
Rob Michaels
William F. O'Brien
John Perigaut
Art Mawson
ASQ Merrimack Valley Education General Information & Policies
General Requirements
Deadline: The deadlines for certification review course enrollment by ASQMV are aligned to meet ASQ exam registration dates. This is to allow the registrant to confirm the review course will run before registering for the next exam cycle.

Minimum class enrollment is required for a course to run.  ASQMV reserves the right to cancel a course if the minimum number of paid registrants is not met.

ASQMV reserves the right to cancel a course up to and including the first day of class.

ASQMV reserves the right to cancel a course if the minimum number of registrants are not met or extenuating circumstances beyond ASQMV control.

The SLT will vote to approve or disapprove specific situations where a course is being evaluated to run at less than minimum registrants, which would result in a financial loss.
Payment Requirements
Course payment is due in full before first session.

Course payment is completed by credit card through Electronic registration process.

Host site for an ASQMV education course is provided one Free course registration seating and materials (does not count toward minimum number of registrants.

NOTE: ASQ Certification Examination Fees are not included in education course fee.  You must apply directly to ASQ Headquarters to register and pay for Certification Examination process.
Withdrawal Requirements
A registrant will receive 100% refund if they need to withdraw prior to 14 days from the scheduled start date of the education course.

After the above period of time, a registrant may substitute another individual to attend the course in their place or attend the course at a future date when offered.
Certificate Of Completion Requirements
To receive the Certificate Of Completion, a registrant must attend at least 75% of the classes.
Important Notice
Enrollment in the course does not register the student for the exam. Each student is responsible for filling out their own certification application form and sending it, along with the exam fee, directly to ASQ headquarters. The Body of Knowledge and the exam application form are available online at asq.org or by calling ASQ at 800-248-1946.
File
William R. Caswell Biography
82 KB
File
Rob Michaels Biography
82 KB
File
William F. O'Brien Biography
5 KB
File
John Perigaut Biography
34 KB
File
Art Mawson Biography
5 KB
Date Last Modified:
Sep 19, 2020