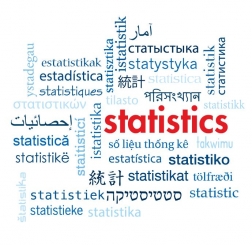 Description
Statistics/Data skills are in demand!
Statistics is a great career option - and a way to enlarge and enhance your own skill set if you are more established in your careers.
What is Statistics?  What do Statisticians do?
The online dictionary Merriam-Webster defines
'Statistics'
as "a branch of mathematics dealing with the collection, analysis, interpretation, and presentation of masses of numerical data". But statistics is more than just numbers... it's about how numbers are used to help us make decisions, with a particular focus on the role of uncertainty. Statistics are everywhere... and statistical analyses have powerful and far-reaching effects on everyone.
What fields use Statistics?
Statistical thinking, processes, tool, and techniques can be used across the board. Essentially, anything that can be measured can have statistical methods applied to it... you are limited only by your imagination. The ASQ Statistics Division focuses on statistical methods in the area of quality improvement, but this provides a very large tent for us to work under, since quality improvement is a goal that anyone working in almost any field should be striving for in some way. The "World of Statistics" map below highlights activities around the world in different fields.
Job Satisfaction, Upcoming Demand and Outlook
Statistician
just ranked #1 in the 2019 U.S. News and World Report Best Business Jobs, followed closely by Mathematician, Actuary, and Operations Research Analyst. It ranked #2 overall in 100 Best Jobs, and #2 in STEM Jobs. Glassdoor's demand projections for 2019 hot jobs rank the closely-related programming-heavy Data Scientist and Data Engineer as #1 and #6 respectively, with Data Analyst at #31. Visit our
Job Board
-- under
Discussions
.
Becoming a Statistician
The
"This is Statistics"
website, published by the American Statistical Association (ASA), showcases possible career directions and provides resources to people considering a statistics career: https://thisisstatistics.org.statiosti
Hi-res pdf available at:
https://my.asq.org/communities/files/177/3350
Date Last Modified:
Jun 23, 2019