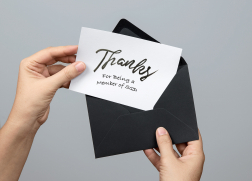 Description
The Service Quality Division (SQD) offers an annual scholarship for any eligible member, or family member of the Service Quality Division, or an individual sponsored by an eligible SQD member.
The number of scholarships, and the amount awarded will be determined each year by the Scholarship Committee through a review of the submissions.
To be eligible, each applicant must be enrolled in an accredited college or university for the upcoming year, and must submit a completed application by the posted deadline.
Updated Scholarship application forms are posted in the new calendar year.  
Applications will be accepted between February 1 and April 26th each year. 
 Be sure to include all paperwork in the application.
For questions, please contact:
Marianne Gonzalez
mgonzalez@memberleader.asq.org
Date Last Modified:
Feb 12, 2021