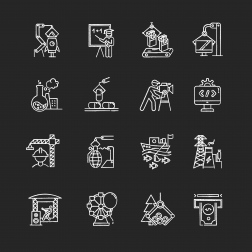 Description
A 2022 priority for Service Quality Division (SQD) is the development of Industry Profiles for service based organizations, which provides information that could be leveraged by our Members in their careers.  These profiles are similar to user experience personas, and detail things such as the industry's values, goals, challenges, influencers and needs.  As well, to increase the value, we're also tying these back to our Service Quality Body of Knowledge (SQBOK), where readers can dive deeper, to learn more, and take advantage of the opportunities identified within the sector.

This is very much the start of a new journey for SQD, so we are looking to continue to build and evolve these.  Check back often for new profiles, and if you have ideas, or want to contribute, please reach out to Leia Patzernuk, our Chair Elect, at lpatzernuk@memberleader.asq.org. 
File
Contact Centre
Industry Profile focused on Contact Centres.
454 KB
File
Real Estate (Land Development) Industry Profile
209 KB
Date Last Modified:
Aug 17, 2022