2021 A.C. Rosander Scholarship Application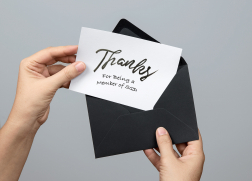 Description
The ASQ Service Quality Division (SQD) offers an annual scholarship for any eligible member, or family member of the Service Quality Division, or an individual sponsored by an eligible SQD member.  Please refer to the attached file for the application form, and further details about this year's scholarship.  When submitting, please don't forget to include your 3 to 5-page essay. 

The theme for the 2021 scholarship essay is:
'My Personal Experience with Service Quality'
Service transactions are a regular part of our lives. Each day we receive services from dozens of companies, government agencies, and other types of institutions. We also provide services through our workplaces and volunteer activities.

The Scholarship Committee would like you to think of a service you either receive or provide, and objectively analyze it against the typical components of a well-defined Service Quality program.  Identifying those components will be a key part of your essay.
Such a program (and your essay) typically answers the following questions:
What is the actual service being provided?  Does it have boundaries?  Is it well defined? How?

How is the service supposed to be delivered? How can the provider know it is being delivered as intended? Is it being delivered consistently?

What does the customer think of the service? How does the provider objectively know what they think? Is the right service being provided?
Perhaps you will analyze a company you use whose services you admire. Perhaps you will choose to write about a service provider you think is lacking. Or maybe you will choose to tell us about a service you provide through your job or as a volunteer.  Examples of any of these are welcome so long as it is a service you have received or have provided in your own experience.

Additional Information:

The number of scholarships and the amount awarded will be determined each year by the Scholarship Committee through a review of the submissions. To be eligible, each applicant must be enrolled in an accredited college or university for the upcoming year and must submit a completed application by the posted deadline.

Applications will be accepted between now and April 30, 2021. 

For questions, please refer to our Scholarship Overview or contact:

Marianne Gonzalez
SQD Scholarship Coordinator
mgonzalez@memberleader.asq.org
File
2021 AC Rosander Scholarship Application Form
2021 AC Rosander Scholarship Application Form
78 KB