Leadership Body of Knowledge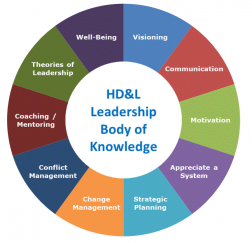 Description
Developing our Leadership Body of Knowledge
Our first step in creating our Body of Knowledge (BOK) was to do a brain dump of all possible topics that relate to leadership, including annotation and references. We eventually boiled this down to the following 10 topics:
Visioning, Communication. Motivation, Appreciation of a System, Strategic Planning, Change Management, Conflict Management, Coaching/Mentoring, Well-Being,
and
Theories of leadership
.
You could fill several books on any one of these topics and that is beyond our current capability to complete. Besides, by the time a book is finished, new developments will have rendered it out of date. Our strategy has been to write primers, newsletter articles and hold webinars on each topic. Each primer has some basic principles, along with citations of the key sources. The table below shows where we are in this process.  
NOTE: You will note that we are missing primers for Strategic Planning.  Anyone who would like to take on this study and writing chore should contact Dr. Carol "Charlie" Barton, who has proven to be a good coach and editor.
---
Why do we not have a certification?
This is one of the most common questions our leadership team is asked. Most ASQ divisions create a BOK as a basis for certification on a specific area or topic, usually of a technical nature. Our division is not confident that we could provide a certification in leadership. While a person with a technical certification (i.e. CQE) will likely be able to operate successfully, there is far less a guarantee that a person with the requisite knowledge can be an effective leader. We believe that an
effective leader
is a combination of three key attributes:
Knowledge

,

Experience

and

Personal Qualities
.
While we could provide knowledge, our division has limited ability to provide opportunities to gain leadership experience. Therefore, leadership experience would likely need to be gained by the individual in their current or future roles. In addition to knowledge and experience, an effective leader needs certain personal qualities, such as curiosity, courage, and integrity. It is important to note Deming was more of a moral philosopher than methodologist (Baker, 2016). While our teaching addresses these issues, we are not ready to certify the moral fitness of others. We believe that the study of the theory, tools, and methods in the ten categories that make up our body of knowledge will provide a strong foundation or enhancement of a person's ability to lead when they possess these personal qualities and have the opportunity to gain experience. And remember, the three attributes constitute a system. If any one of the three components is missing, the system will not function.  
---
References:
Baker, E. M., 
The Symphony of Profound Knowledge: W. Edwards Deming'S Score for Leading, Performing and Living in Concert
. iUniverse. Kindle Edition, 2016.  

Submitted by:
Marilyn Monda
Date Last Modified:
Jul 1, 2019