ASQ 2020 Virtual Western Canada Quality and Business Excellence Conference - hosted by ASQ Vancouver, Section 408, BC, Canada
Rethink Opportunities. United in Change.
Date And Time
Sun, Nov 22, 2020, 9:45 PM –
Tue, Nov 24, 2020, 3:30 AM +04

A rare gathering of some of the most respected leaders in quality & business, sharing their insights to power through the pandemic.
About this Event
These are challenging times. The COVID-19 pandemic has affected individuals, businesses, and even entire industries. But in times of significant change, it can be a good time to reflect, assess our situation, and Rethink the Opportunities before us to emerge from this crisis stronger than ever – United in Change.
The 2020 Western Canada Conference is being hosted by ASQ Vancouver, with the cooperation of ASQ Calgary, ASQ Edmonton, ASQ Saskatchewan and ASQ Manitoba. 100% online this year! We have partnered together to make this year's conference an even more memorable experience. In this two-day conference, you will have the opportunity to hear from industry experts, thought leaders, and business coaches who will inspire you to Rethink the boundaries of what is possible, empower you with knowledge, and enable you with the tools to turn the challenges we all face into new Opportunities for creating sustainable value. So sign up below and we look forward to "seeing" you all on November 22nd and 23rd! "
For more information about the conference please visit
Earn 0.5 Recertification units per day for your ASQ Certification by attending this event".
Date: November 22 and 23, 2020
Ticket Prices:
ASQ members: FREE. Please have your ASQ membership no. ready which will be required at check out to complete registration.
Non-members: $20
Students: $5. Name or university/college will be required at check out to complete registration.
Location: Online
Zoom links will be emailed to your registered email address (as provided during checkout) two (2) days prior to the conference.
Conference Agenda
Conference will start at 09:45 AM and the Zoom call will be open half an hour before. We invite you to join the call at least 15 minutes before the event.
Bring a warm cup of coffee or tea and join us for a 09:45 AM sharp start. All times are as per Vancouver Pacific Standard Time (UTC/GMT -8 hours). Click here to check conference start time at your local time.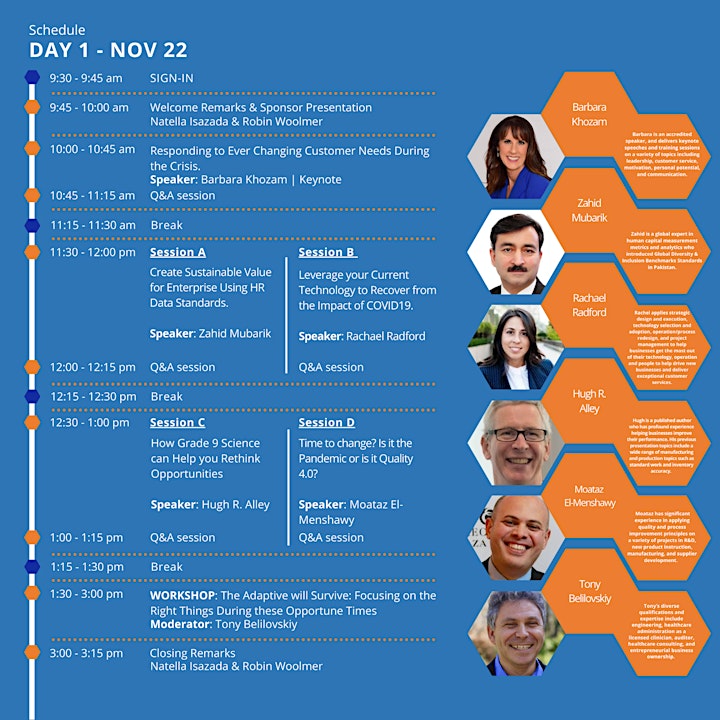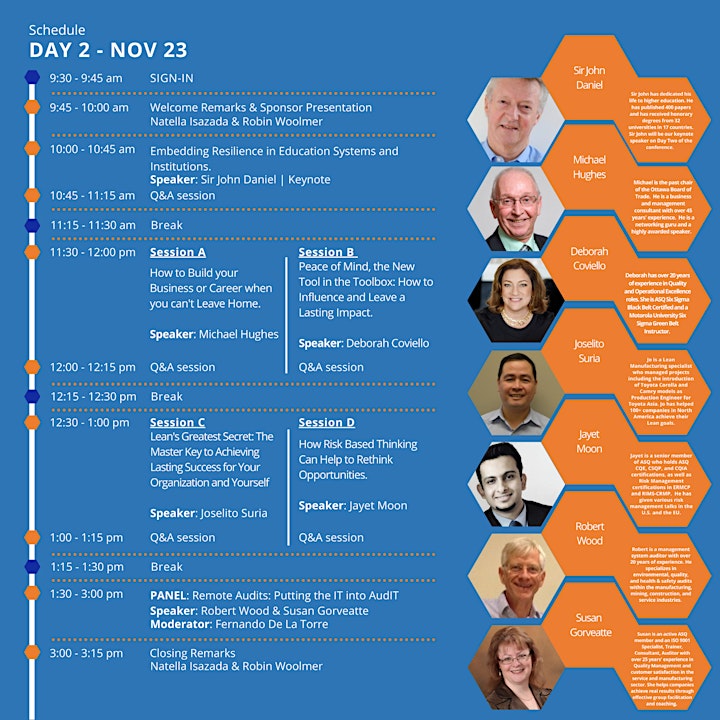 https://www.eventbrite.ca/e/asq-2020-western-canada-quality-and-business-excellence-conference-tickets-124735034847
Date & Time
Sunday November 22nd, 2020 11:00am CST
End Date & Time
Monday November 23rd, 2020 6:00pm CST
Webinar Link / Meeting Instructions
Event Sponsor Information
ASQ Vancouver, BC, section 408